Online slots games have become a staple in the history of gambling since the late 1800's. Slots are present in every land-based and online casino around the world, and typically make up well over half of the entire game variety.
We have outlined the different type of slots available at online casinos in separated categories. These categories contain slots games including their descriptions to their respective categories. Several slots games appear in more than one category, as they are pulled from our database based on several variables.
Standard Slots
Standard slot machines commonly have 3 or 5 reels. When most of us think about a traditional slot machine, chances are we are thinking about one of the standard slots.
Players love to play the standard slots games because of their simplicity. All you have to do is click on the handle and away you go. Beginners particularly like these slots for that reason alone.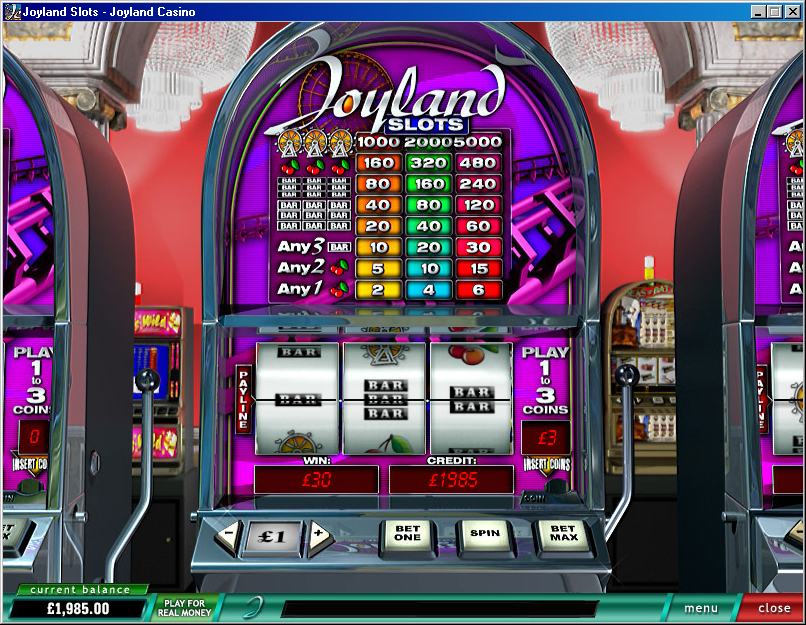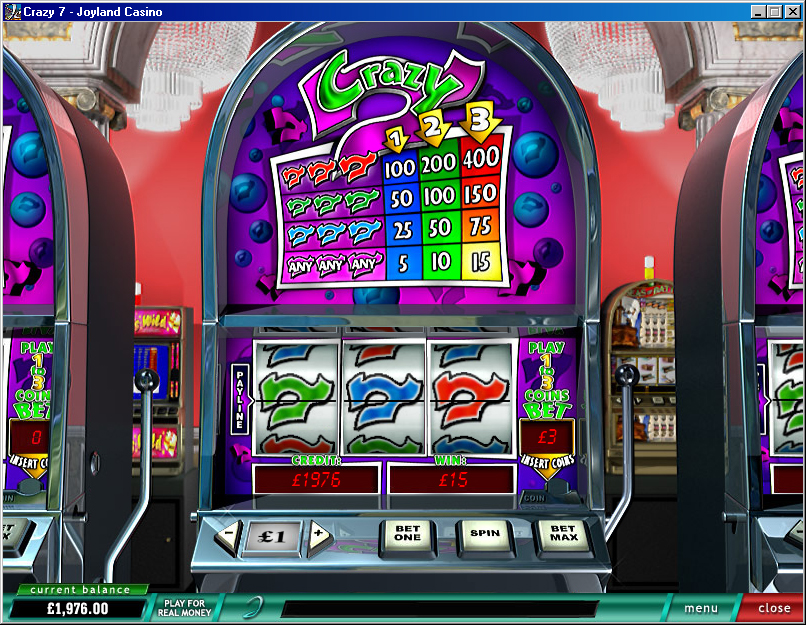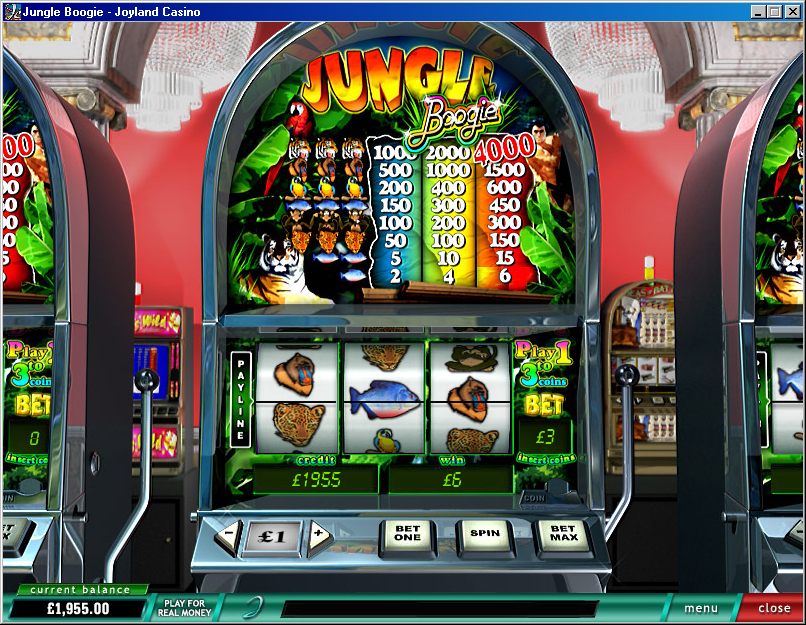 5 Reel Slots
5 Reel Slots are the most common slot machines available today. They come in many different varieties that make them unique from each other.
5 Reel Slots include bonus slots, standard slots and progressive slots. Whatever your preference is when it comes to slots; you will be well catered for by the 5 Reel Slots.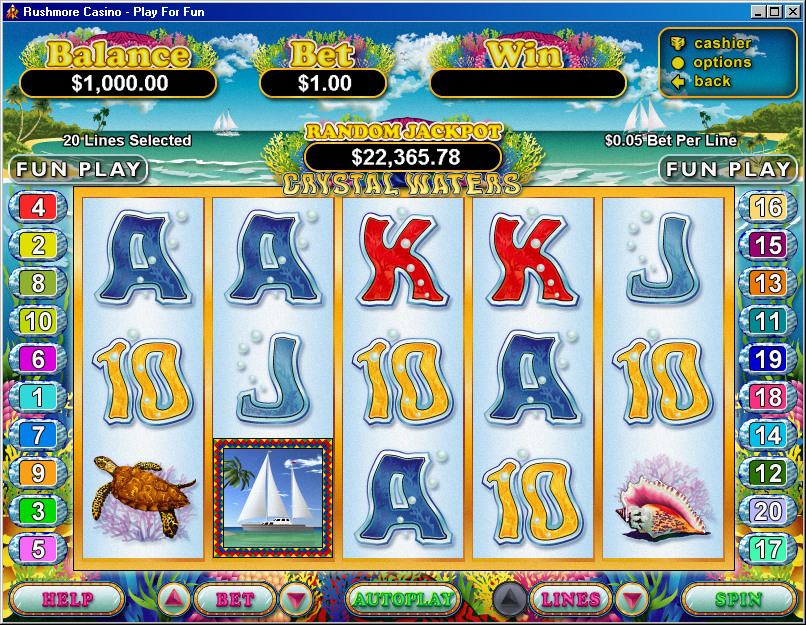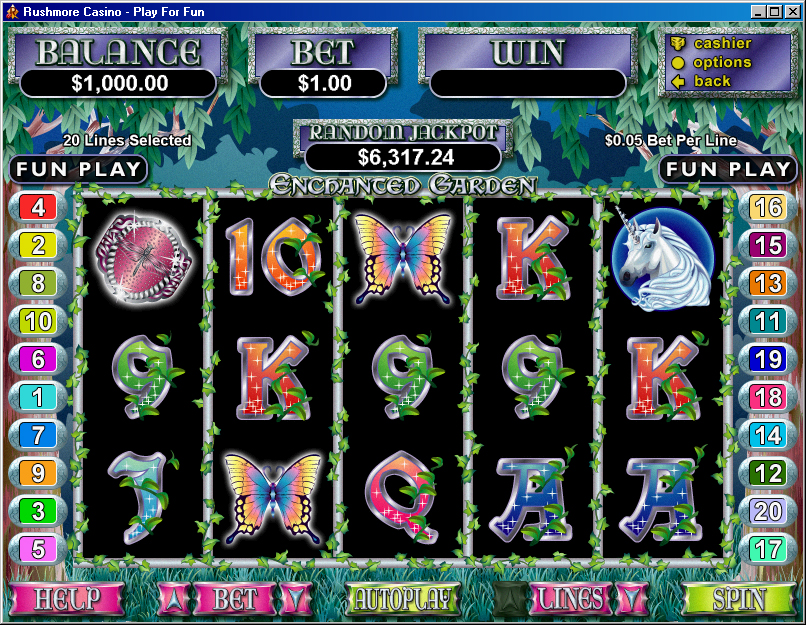 Multi Line Slots
Growing fast in popularity are multi-line slots. This type of slots have more than payout lines than standard slots games, typically 9 to 25 and sometimes even 100. Multi-line slot machines differ from standard slots in various betting options and multiple winning combinations.
Winning combinations will appear across the screen. Usually, multi-line slots also have an extra bonus screen that will give you the opportunity for an additional jackpot when hit, for instance doubling up. Some multi-line slot machines have up to ten pay lines and have the ability to bet multiple coins per line.
Bonus Slots
Bonus slots are possibly the most popular form of slot machines available. Bonus slot machines go beyond the offerings of a normal machine by adding a bonus feature to excite the player and create more chances of winning.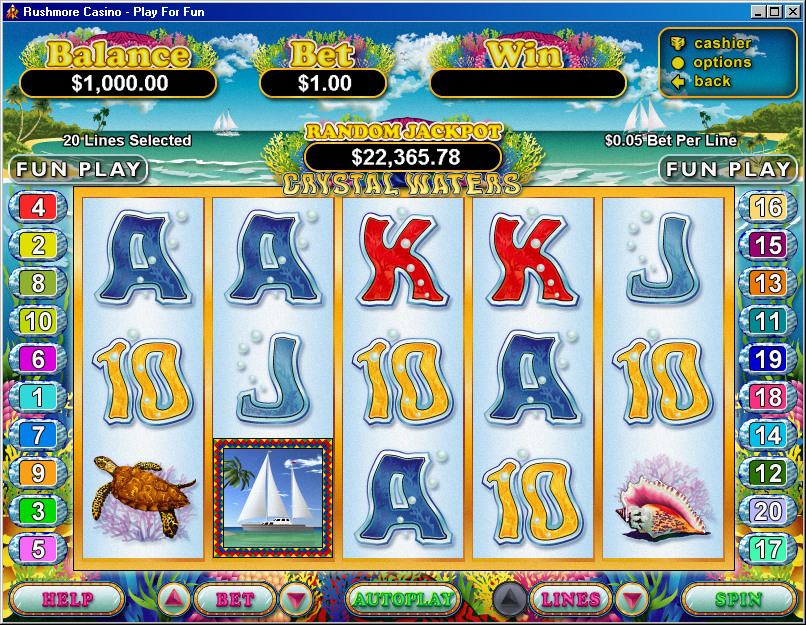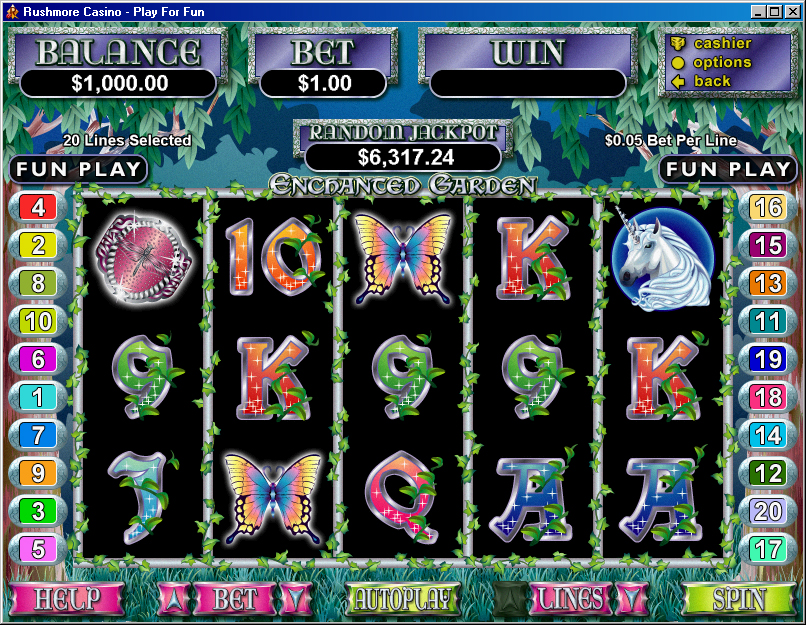 Jackpot Slots
To be eligible to win one of these progressive jackpots you will more than likely have to bet the maximum amount of coins. Also, there will be a tiny percentage of your money taken out to go towards the jackpot. If you hit one of these jackpots while you play online slots though, it will be a life changing sum of money for you to play around with.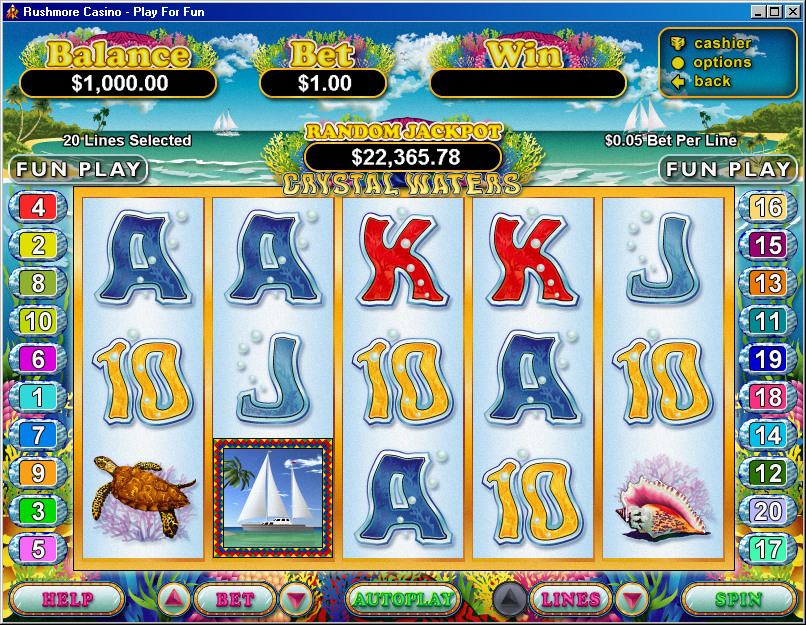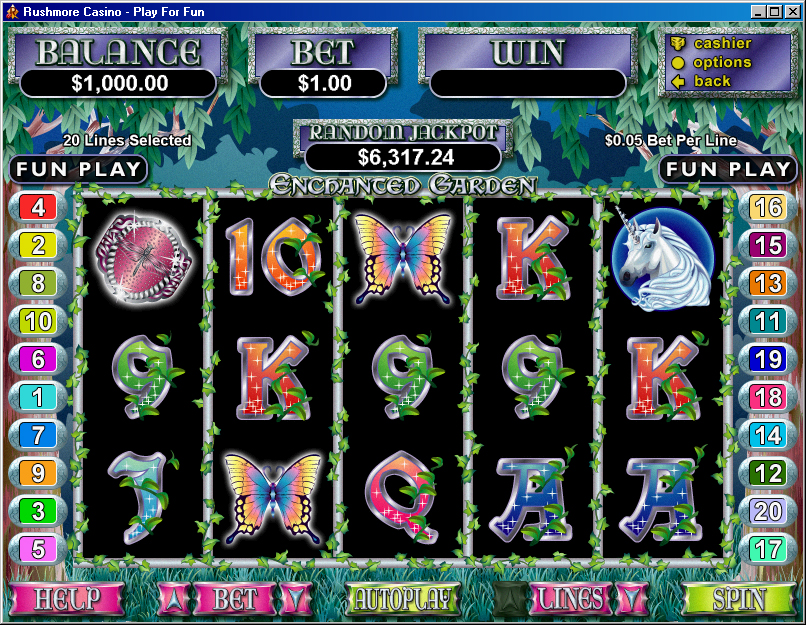 Search our Slots Database
Real Time Gaming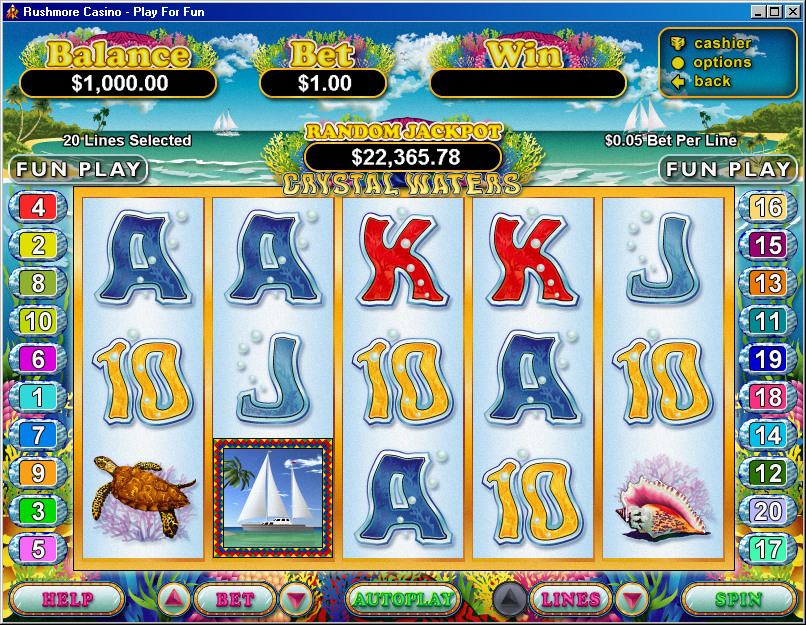 Christal Waters

| | |
| --- | --- |
| Reels | 5 |
| Payout Lines | 20 |
| Coins Min. | $0.01 |
| Coins Max. | $5.00 |
| Max. Coins/Bet | $20 |
| Max. Bet/Spin | $100.00 |
| Bonus Features | Yes |
| Wild Card | Yes |
| Scatter | Yes |
| Jackpot | Yes |
Real Time Gaming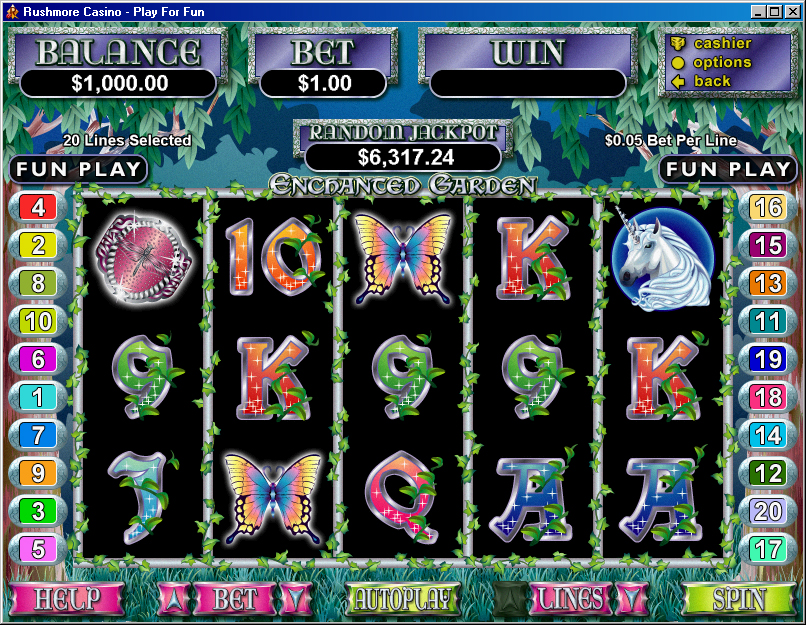 Enchanted Garden

| | |
| --- | --- |
| Reels | 5 |
| Payout Lines | 20 |
| Coins Min. | $0.01 |
| Coins Max. | $5.00 |
| Max. Coins/Bet | $20 |
| Max. Bet/Spin | $100.00 |
| Bonus Features | Yes |
| Wild Card | Yes |
| Scatter | Yes |
| Jackpot | Yes |
Real Time Gaming
Treasure Chamber

| | |
| --- | --- |
| Reels | 5 |
| Payout Lines | 20 |
| Coins Min. | $0.01 |
| Coins Max. | $5.00 |
| Max. Coins/Bet | $20 |
| Max. Bet/Spin | $100.00 |
| Bonus Features | Yes |
| Wild Card | Yes |
| Scatter | Yes |
| Jackpot | Yes |
Real Time Gaming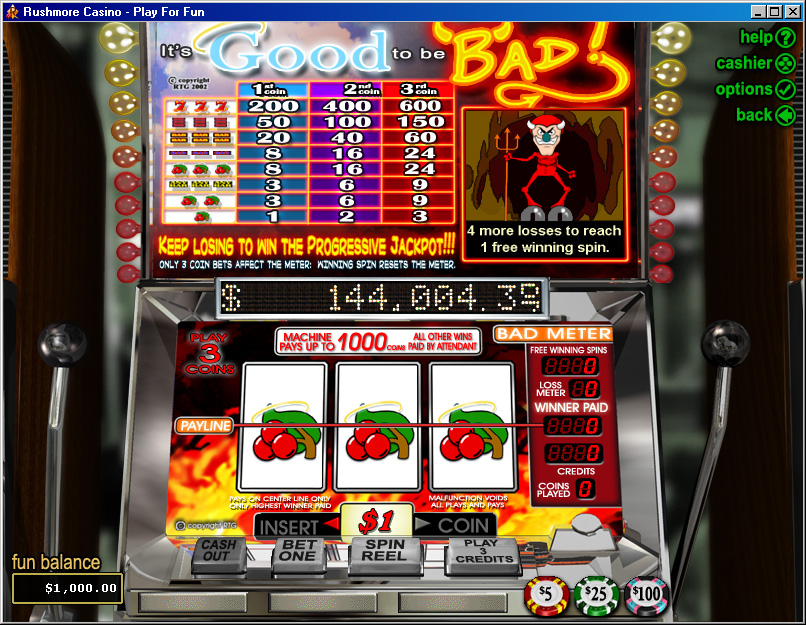 It's Good To Be Bad

| | |
| --- | --- |
| Reels | 3 |
| Payout Lines | 1 |
| Coins Min. | $1.00 |
| Coins Max. | $1.00 |
| Max. Coins/Bet | $3 |
| Max. Bet/Spin | $3.00 |
| Bonus Features | Yes |
| Wild Card | No |
| Scatter | No |
| Jackpot | Yes |
Real Time Gaming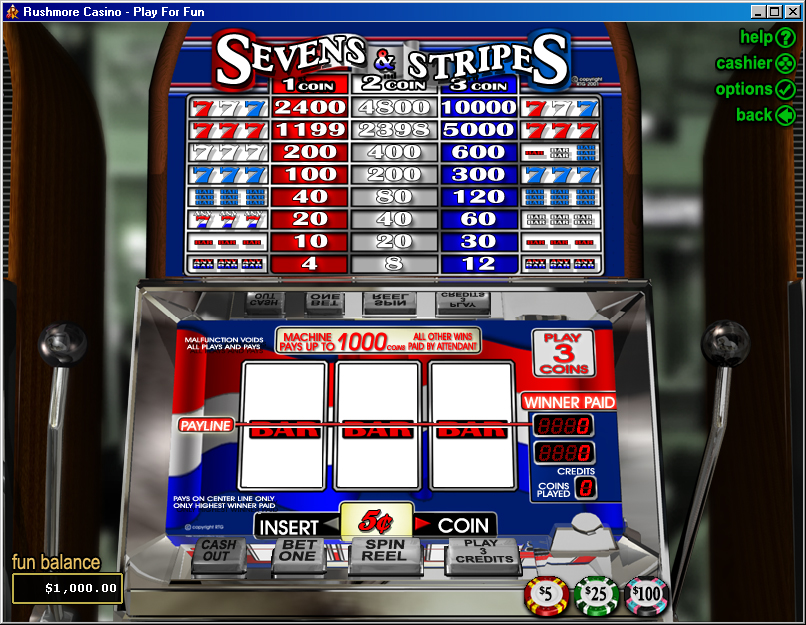 Sevens and Stripes

| | |
| --- | --- |
| Reels | 3 |
| Payout Lines | 1 |
| Coins Min. | $0.05 |
| Coins Max. | $0.00 |
| Max. Coins/Bet | $3 |
| Max. Bet/Spin | $0.15 |
| Bonus Features | No |
| Wild Card | No |
| Scatter | No |
| Jackpot | Yes |
Real Time Gaming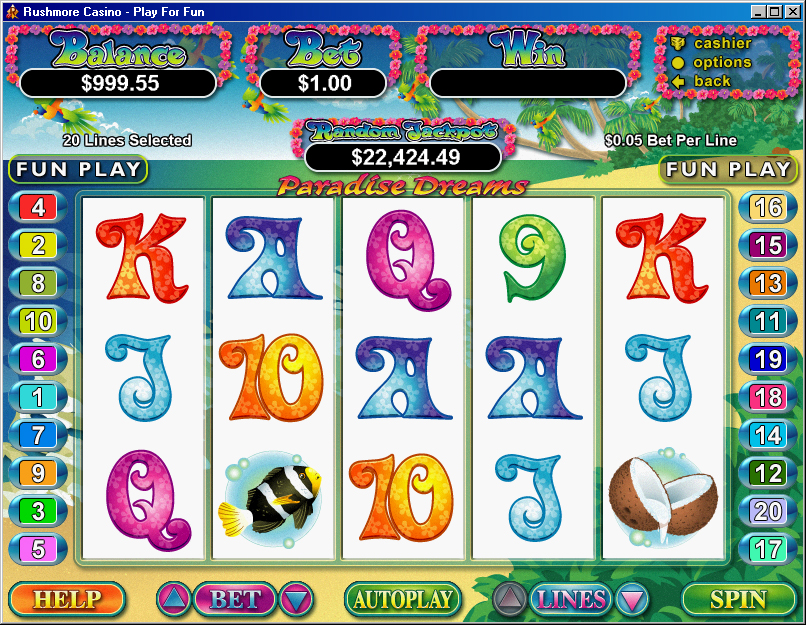 Paradise Dreams

| | |
| --- | --- |
| Reels | 5 |
| Payout Lines | 20 |
| Coins Min. | $0.01 |
| Coins Max. | $5.00 |
| Max. Coins/Bet | $20 |
| Max. Bet/Spin | $0.00 |
| Bonus Features | Yes |
| Wild Card | Yes |
| Scatter | Yes |
| Jackpot | Yes |
Real Time Gaming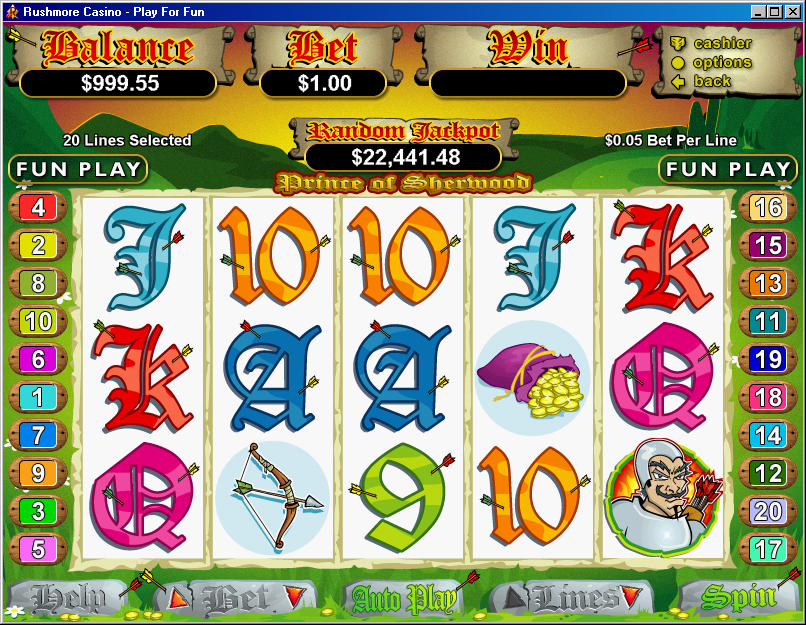 Prince Of Sherwood

| | |
| --- | --- |
| Reels | 5 |
| Payout Lines | 20 |
| Coins Min. | $0.01 |
| Coins Max. | $5.00 |
| Max. Coins/Bet | $20 |
| Max. Bet/Spin | $100.00 |
| Bonus Features | Yes |
| Wild Card | Yes |
| Scatter | Yes |
| Jackpot | Yes |
Real Time Gaming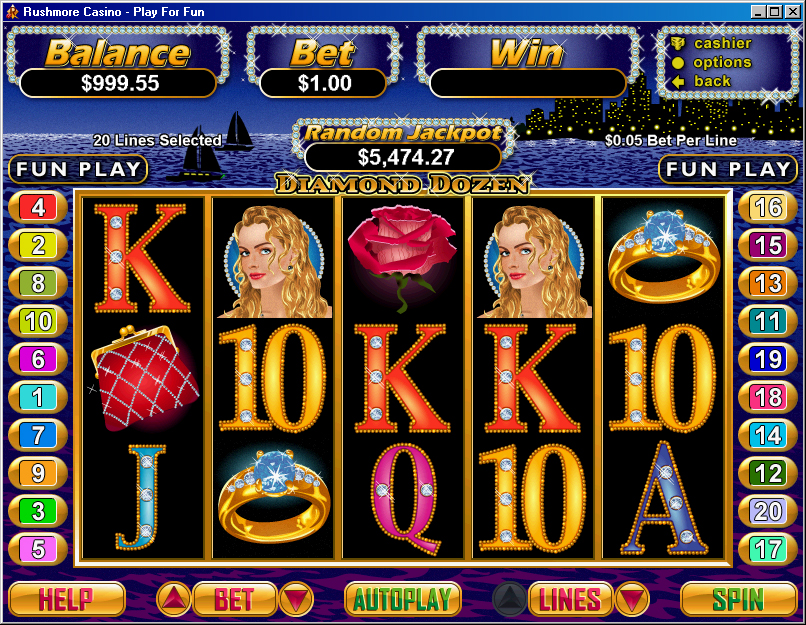 Diamond Dozen

| | |
| --- | --- |
| Reels | 5 |
| Payout Lines | 20 |
| Coins Min. | $0.01 |
| Coins Max. | $5.00 |
| Max. Coins/Bet | $20 |
| Max. Bet/Spin | $100.00 |
| Bonus Features | Yes |
| Wild Card | Yes |
| Scatter | Yes |
| Jackpot | Yes |
Real Time Gaming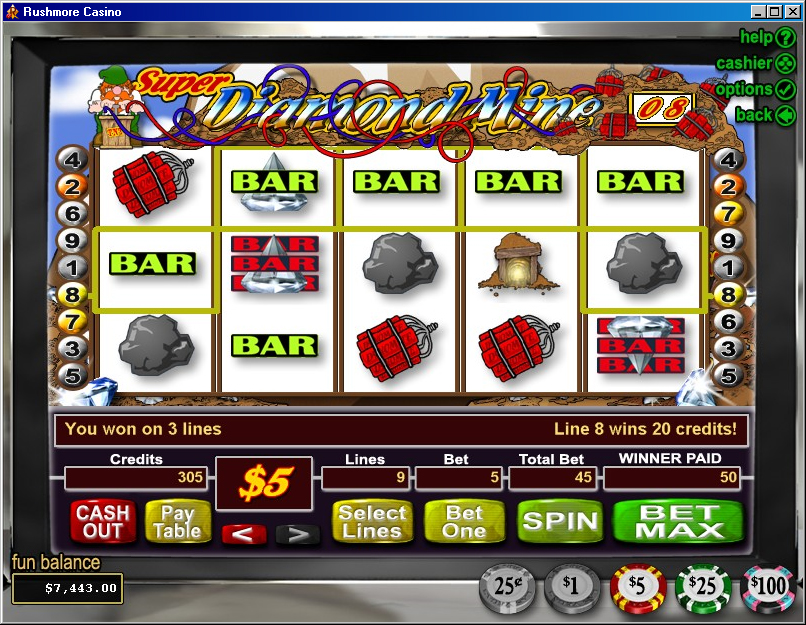 Super Diamond Mine

| | |
| --- | --- |
| Reels | 5 |
| Payout Lines | 9 |
| Coins Min. | $0.01 |
| Coins Max. | $5.00 |
| Max. Coins/Bet | $45 |
| Max. Bet/Spin | $225.00 |
| Bonus Features | Yes |
| Wild Card | No |
| Scatter | No |
| Jackpot | No |
Real Time Gaming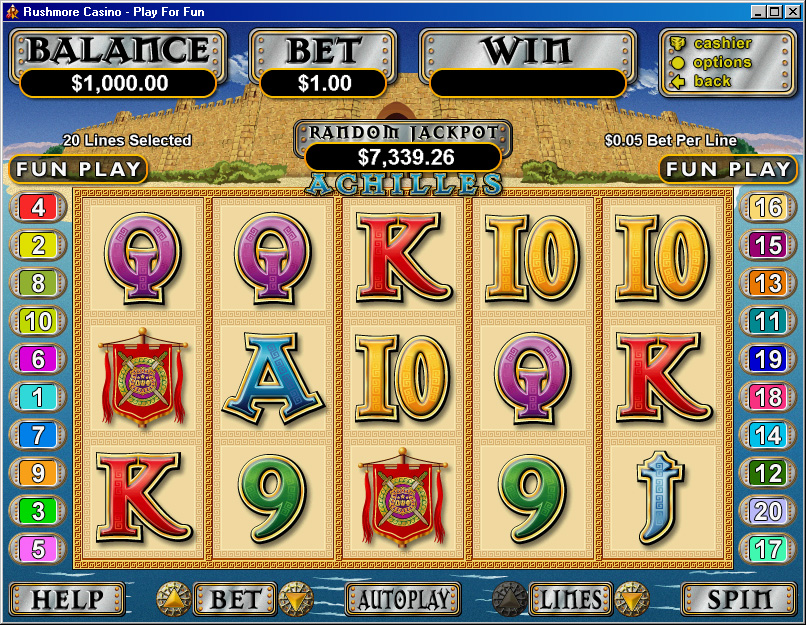 Achilles

| | |
| --- | --- |
| Reels | 5 |
| Payout Lines | 20 |
| Coins Min. | $0.01 |
| Coins Max. | $5.00 |
| Max. Coins/Bet | $20 |
| Max. Bet/Spin | $100.00 |
| Bonus Features | Yes |
| Wild Card | Yes |
| Scatter | Yes |
| Jackpot | Yes |
Real Time Gaming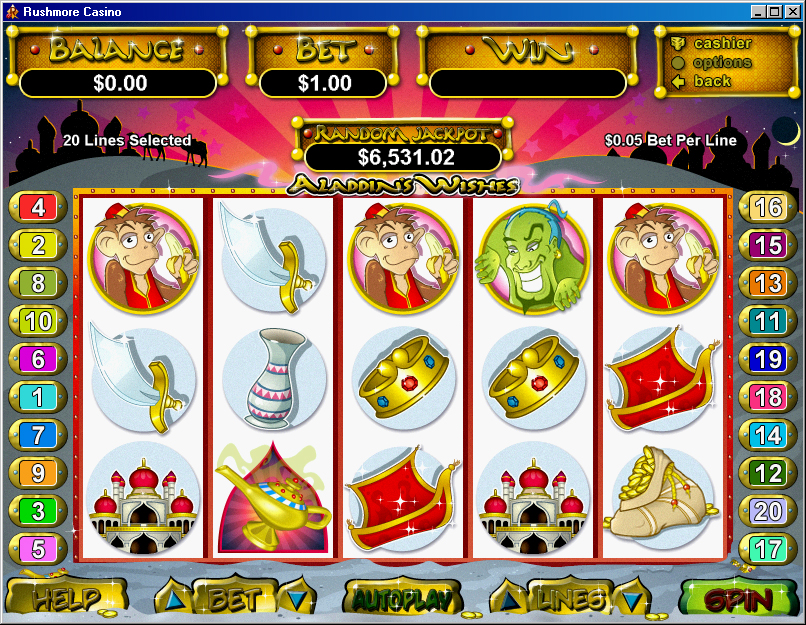 Aladdin's Wishes

| | |
| --- | --- |
| Reels | 5 |
| Payout Lines | 20 |
| Coins Min. | $0.01 |
| Coins Max. | $5.00 |
| Max. Coins/Bet | $20 |
| Max. Bet/Spin | $100.00 |
| Bonus Features | Yes |
| Wild Card | Yes |
| Scatter | Yes |
| Jackpot | Yes |
Real Time Gaming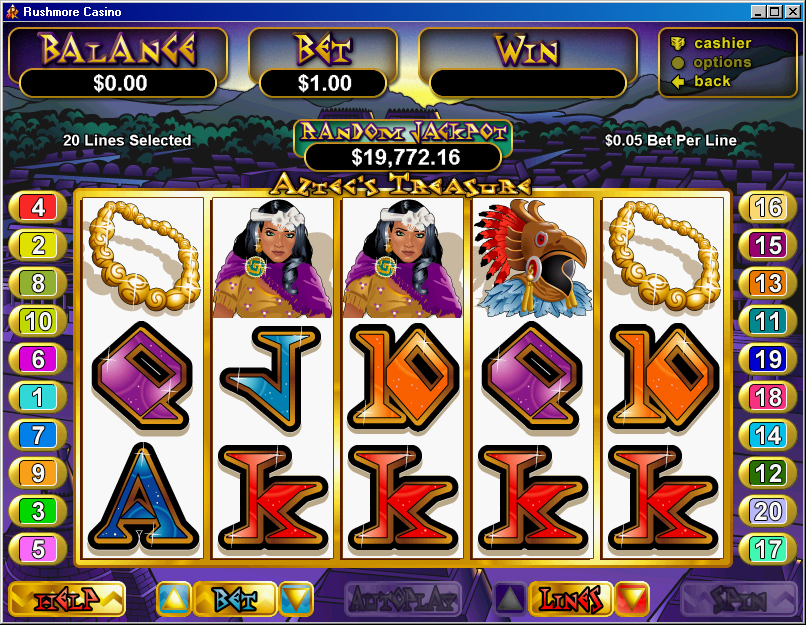 Aztec's Treasure

| | |
| --- | --- |
| Reels | 5 |
| Payout Lines | 20 |
| Coins Min. | $0.01 |
| Coins Max. | $5.00 |
| Max. Coins/Bet | $20 |
| Max. Bet/Spin | $100.00 |
| Bonus Features | Yes |
| Wild Card | Yes |
| Scatter | Yes |
| Jackpot | Yes |
Real Time Gaming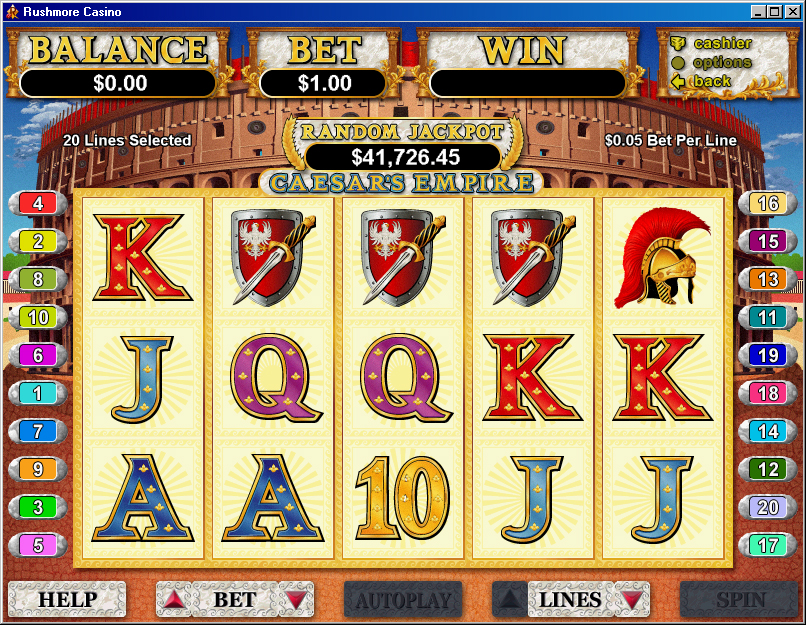 Caesar's Empire

| | |
| --- | --- |
| Reels | 5 |
| Payout Lines | 20 |
| Coins Min. | $0.01 |
| Coins Max. | $5.00 |
| Max. Coins/Bet | $20 |
| Max. Bet/Spin | $100.00 |
| Bonus Features | Yes |
| Wild Card | Yes |
| Scatter | Yes |
| Jackpot | Yes |
Real Time Gaming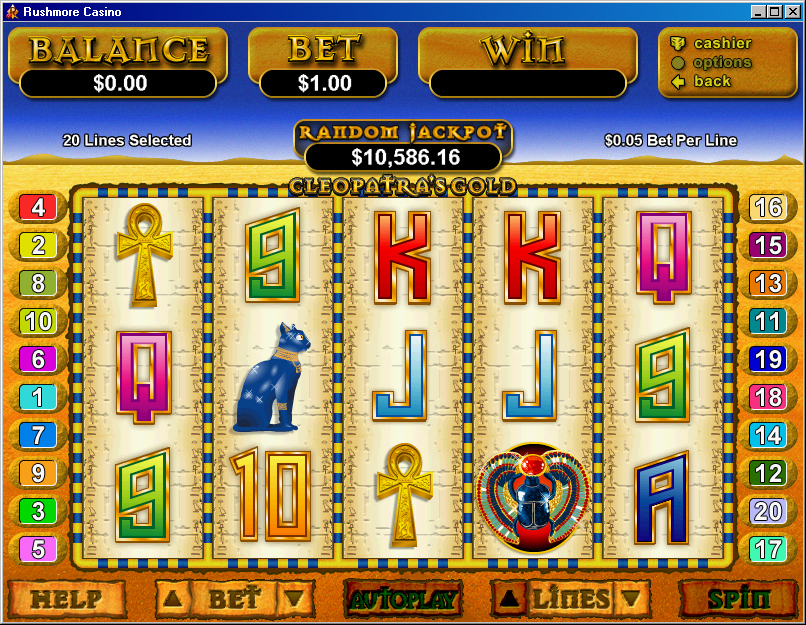 Cleopatra's Gold

| | |
| --- | --- |
| Reels | 5 |
| Payout Lines | 20 |
| Coins Min. | $0.01 |
| Coins Max. | $5.00 |
| Max. Coins/Bet | $20 |
| Max. Bet/Spin | $100.00 |
| Bonus Features | Yes |
| Wild Card | Yes |
| Scatter | Yes |
| Jackpot | Yes |
Real Time Gaming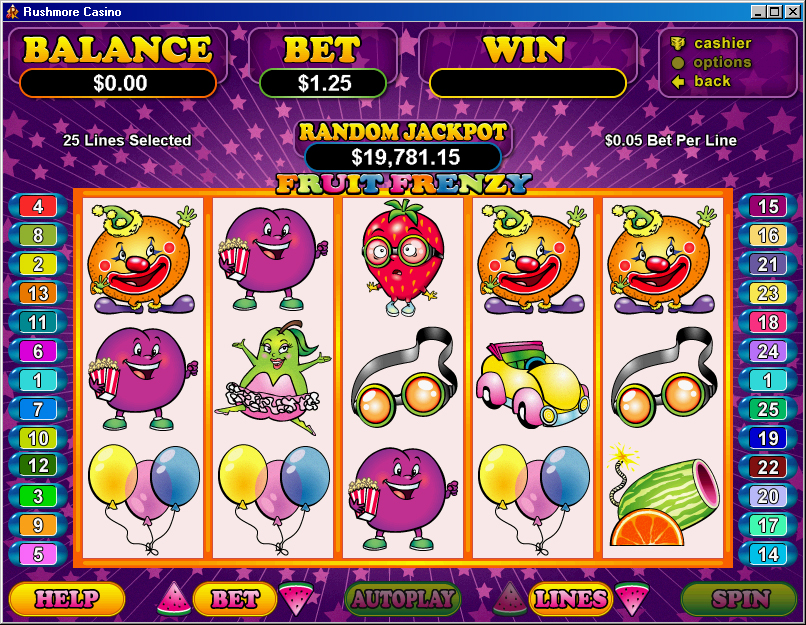 Fruit Frenzy

| | |
| --- | --- |
| Reels | 5 |
| Payout Lines | 20 |
| Coins Min. | $0.01 |
| Coins Max. | $5.00 |
| Max. Coins/Bet | $25 |
| Max. Bet/Spin | $125.00 |
| Bonus Features | Yes |
| Wild Card | Yes |
| Scatter | Yes |
| Jackpot | Yes |
Real Time Gaming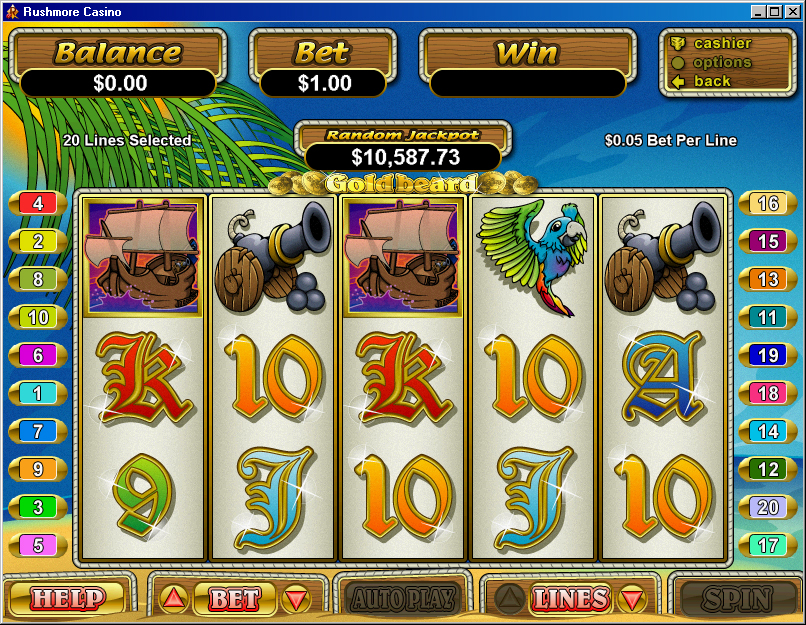 Goldbeard

| | |
| --- | --- |
| Reels | 5 |
| Payout Lines | 20 |
| Coins Min. | $0.01 |
| Coins Max. | $5.00 |
| Max. Coins/Bet | $20 |
| Max. Bet/Spin | $100.00 |
| Bonus Features | Yes |
| Wild Card | Yes |
| Scatter | Yes |
| Jackpot | Yes |
Real Time Gaming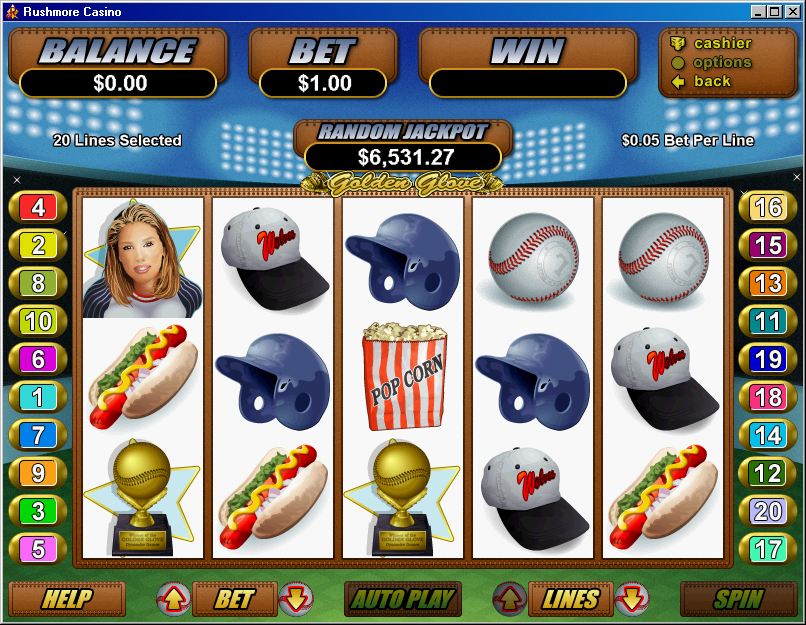 Golden Glove

| | |
| --- | --- |
| Reels | 5 |
| Payout Lines | 20 |
| Coins Min. | $0.01 |
| Coins Max. | $5.00 |
| Max. Coins/Bet | $20 |
| Max. Bet/Spin | $100.00 |
| Bonus Features | Yes |
| Wild Card | Yes |
| Scatter | Yes |
| Jackpot | Yes |
Real Time Gaming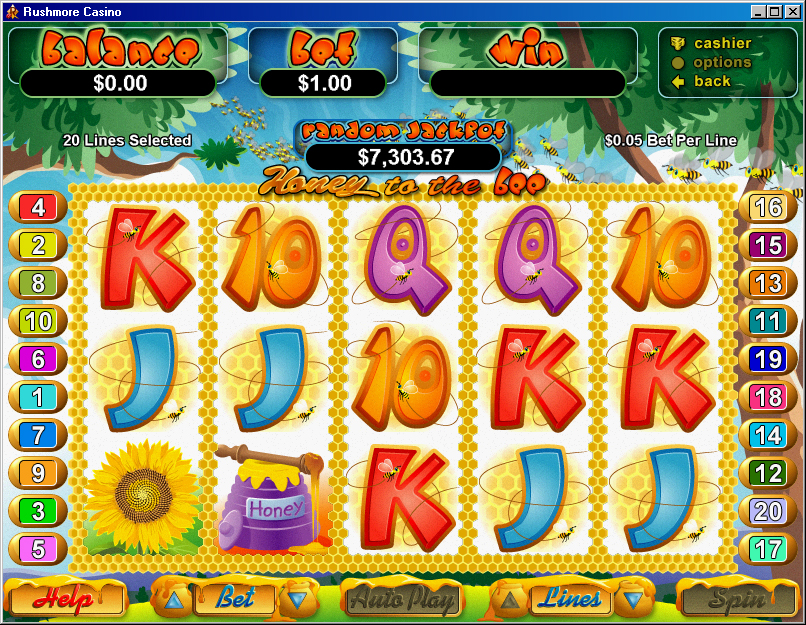 Honey To The Bee

| | |
| --- | --- |
| Reels | 5 |
| Payout Lines | 20 |
| Coins Min. | $0.01 |
| Coins Max. | $5.00 |
| Max. Coins/Bet | $20 |
| Max. Bet/Spin | $100.00 |
| Bonus Features | Yes |
| Wild Card | Yes |
| Scatter | Yes |
| Jackpot | Yes |
Real Time Gaming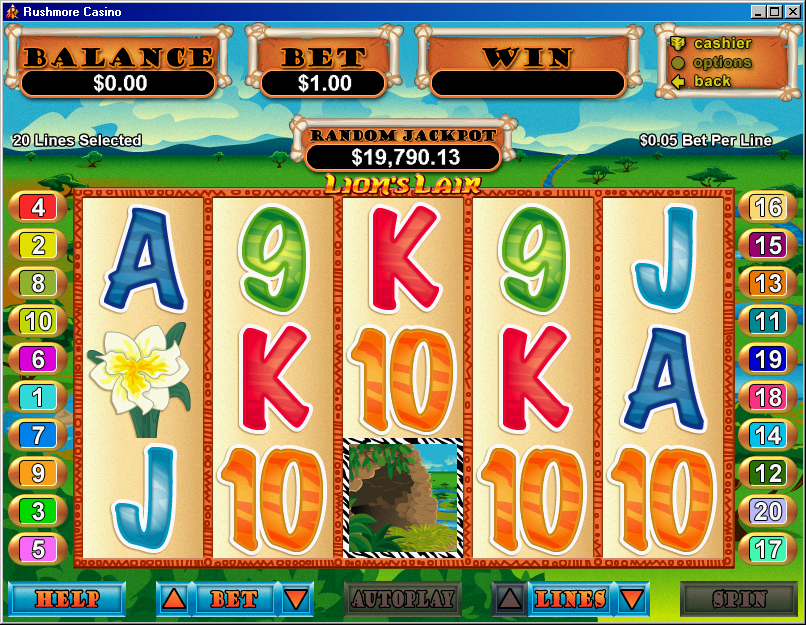 Lion's Lair

| | |
| --- | --- |
| Reels | 5 |
| Payout Lines | 20 |
| Coins Min. | $0.01 |
| Coins Max. | $5.00 |
| Max. Coins/Bet | $20 |
| Max. Bet/Spin | $100.00 |
| Bonus Features | Yes |
| Wild Card | Yes |
| Scatter | Yes |
| Jackpot | Yes |
Real Time Gaming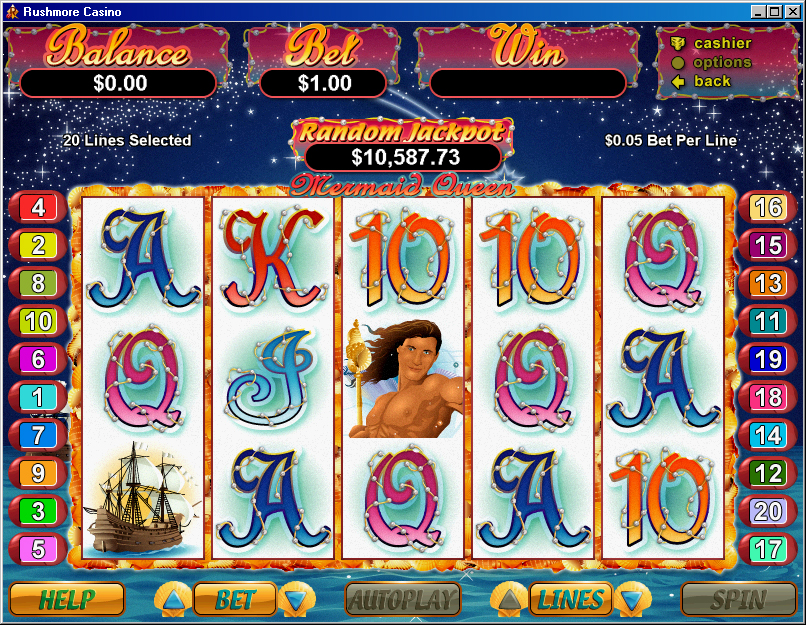 Mermaid Queen

| | |
| --- | --- |
| Reels | 5 |
| Payout Lines | 20 |
| Coins Min. | $0.01 |
| Coins Max. | $5.00 |
| Max. Coins/Bet | $20 |
| Max. Bet/Spin | $100.00 |
| Bonus Features | Yes |
| Wild Card | Yes |
| Scatter | Yes |
| Jackpot | Yes |
Real Time Gaming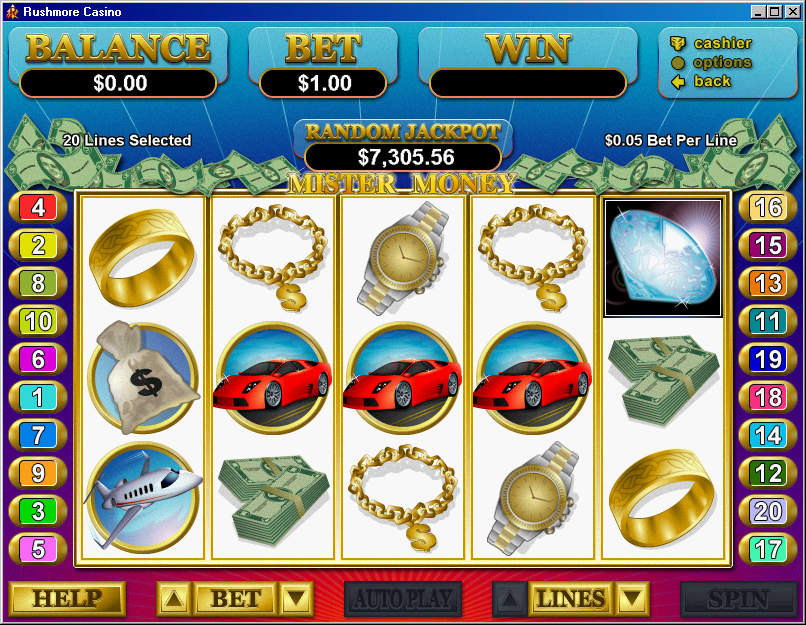 Mister Money

| | |
| --- | --- |
| Reels | 5 |
| Payout Lines | 20 |
| Coins Min. | $0.01 |
| Coins Max. | $5.00 |
| Max. Coins/Bet | $20 |
| Max. Bet/Spin | $100.00 |
| Bonus Features | Yes |
| Wild Card | Yes |
| Scatter | Yes |
| Jackpot | Yes |
Real Time Gaming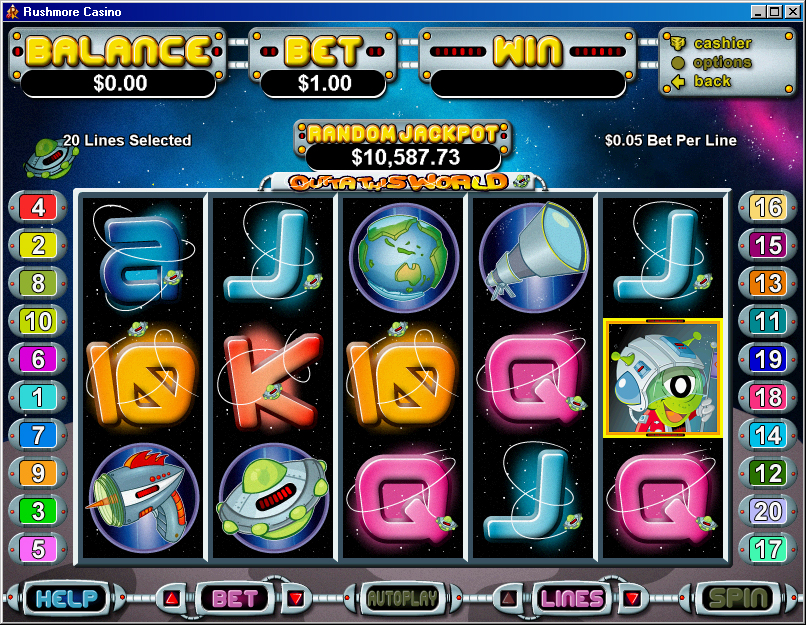 Outta This World

| | |
| --- | --- |
| Reels | 5 |
| Payout Lines | 20 |
| Coins Min. | $0.01 |
| Coins Max. | $5.00 |
| Max. Coins/Bet | $20 |
| Max. Bet/Spin | $100.00 |
| Bonus Features | Yes |
| Wild Card | Yes |
| Scatter | Yes |
| Jackpot | Yes |
Real Time Gaming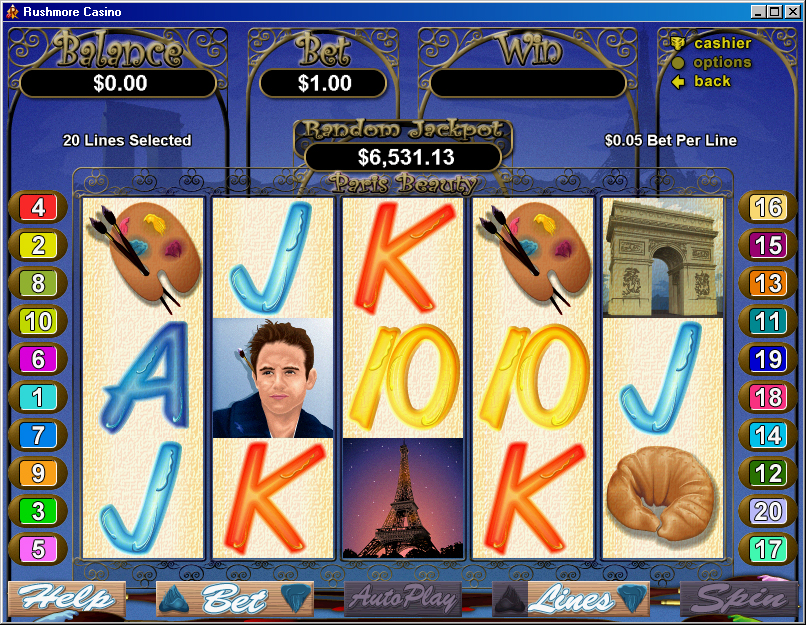 Paris Beauty

| | |
| --- | --- |
| Reels | 5 |
| Payout Lines | 20 |
| Coins Min. | $0.01 |
| Coins Max. | $5.00 |
| Max. Coins/Bet | $20 |
| Max. Bet/Spin | $100.00 |
| Bonus Features | Yes |
| Wild Card | Yes |
| Scatter | Yes |
| Jackpot | Yes |
Real Time Gaming
Penguin Power

| | |
| --- | --- |
| Reels | 5 |
| Payout Lines | 20 |
| Coins Min. | $0.01 |
| Coins Max. | $5.00 |
| Max. Coins/Bet | $20 |
| Max. Bet/Spin | $100.00 |
| Bonus Features | Yes |
| Wild Card | Yes |
| Scatter | Yes |
| Jackpot | Yes |
Real Time Gaming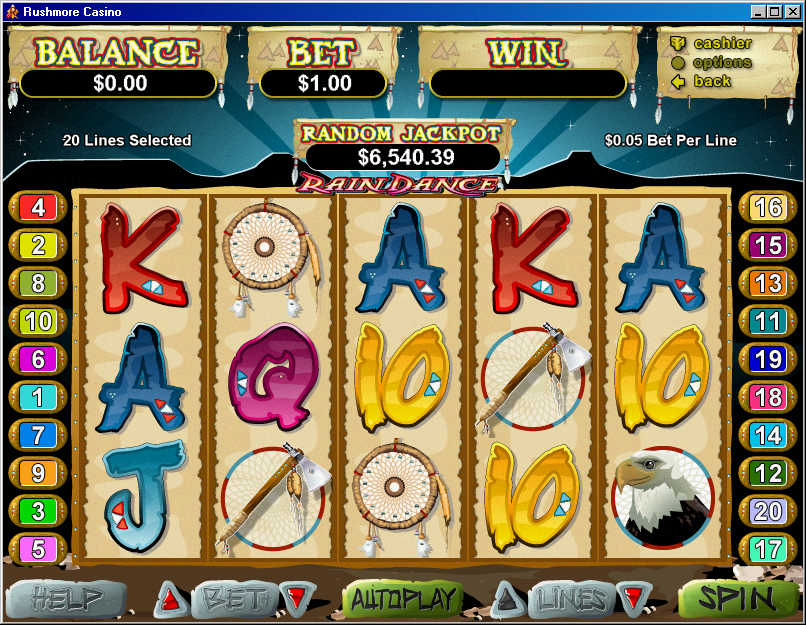 Rain Dance

| | |
| --- | --- |
| Reels | 5 |
| Payout Lines | 20 |
| Coins Min. | $0.01 |
| Coins Max. | $5.00 |
| Max. Coins/Bet | $20 |
| Max. Bet/Spin | $100.00 |
| Bonus Features | Yes |
| Wild Card | Yes |
| Scatter | Yes |
| Jackpot | Yes |
Real Time Gaming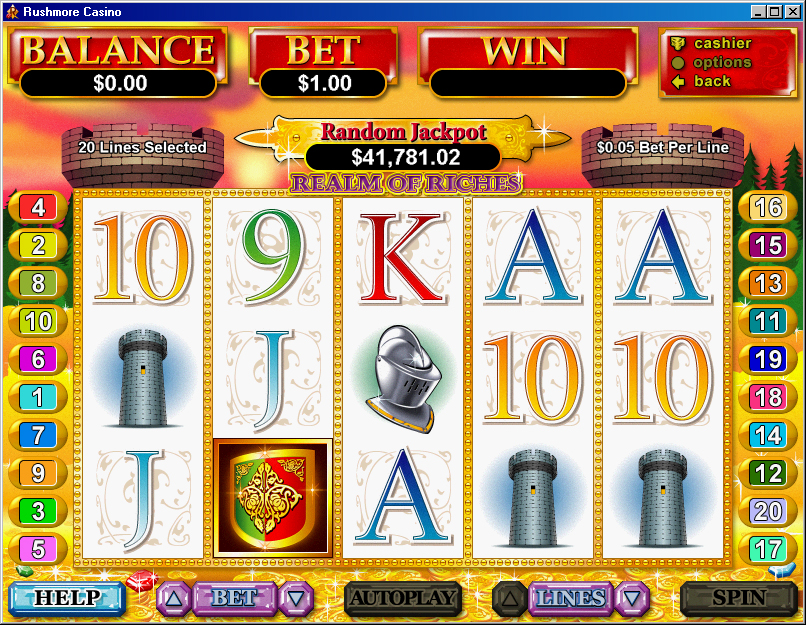 Realm Of Riches

| | |
| --- | --- |
| Reels | 5 |
| Payout Lines | 20 |
| Coins Min. | $0.01 |
| Coins Max. | $5.00 |
| Max. Coins/Bet | $20 |
| Max. Bet/Spin | $100.00 |
| Bonus Features | Yes |
| Wild Card | Yes |
| Scatter | Yes |
| Jackpot | Yes |
Real Time Gaming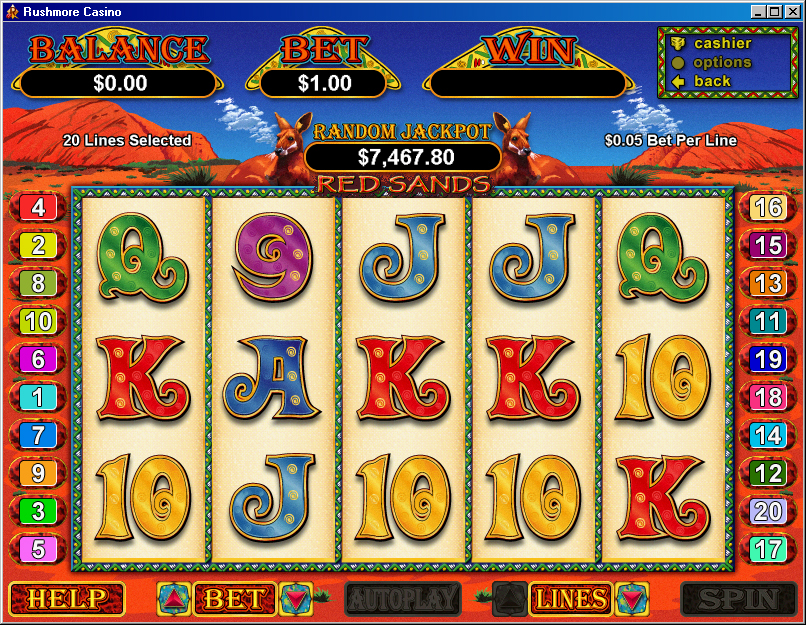 Red Sands

| | |
| --- | --- |
| Reels | 5 |
| Payout Lines | 20 |
| Coins Min. | $0.01 |
| Coins Max. | $5.00 |
| Max. Coins/Bet | $20 |
| Max. Bet/Spin | $100.00 |
| Bonus Features | Yes |
| Wild Card | Yes |
| Scatter | Yes |
| Jackpot | Yes |
Real Time Gaming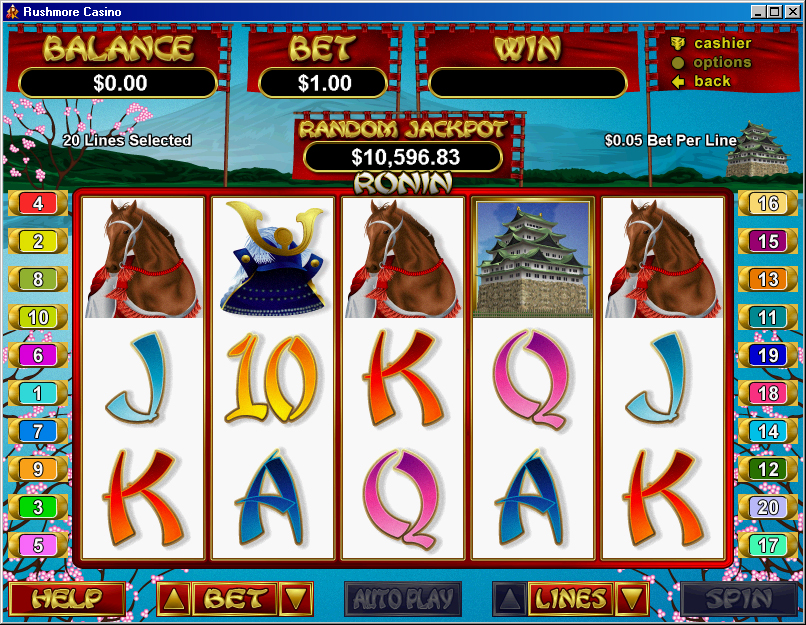 Ronin

| | |
| --- | --- |
| Reels | 5 |
| Payout Lines | 20 |
| Coins Min. | $0.01 |
| Coins Max. | $5.00 |
| Max. Coins/Bet | $20 |
| Max. Bet/Spin | $100.00 |
| Bonus Features | Yes |
| Wild Card | Yes |
| Scatter | Yes |
| Jackpot | Yes |
Real Time Gaming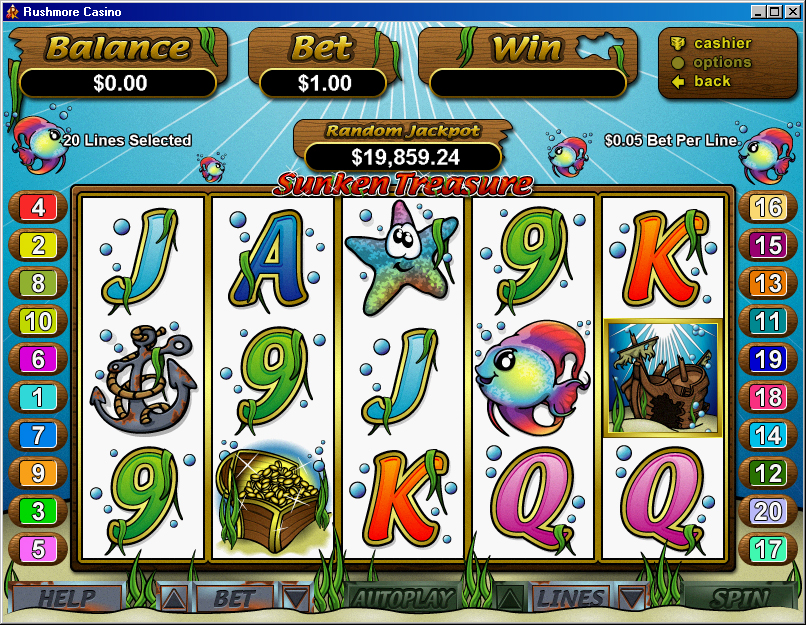 Sunken Treasure

| | |
| --- | --- |
| Reels | 5 |
| Payout Lines | 20 |
| Coins Min. | $0.01 |
| Coins Max. | $5.00 |
| Max. Coins/Bet | $20 |
| Max. Bet/Spin | $100.00 |
| Bonus Features | Yes |
| Wild Card | Yes |
| Scatter | Yes |
| Jackpot | Yes |
Real Time Gaming
Tiger Treasures

| | |
| --- | --- |
| Reels | 5 |
| Payout Lines | 20 |
| Coins Min. | $0.01 |
| Coins Max. | $5.00 |
| Max. Coins/Bet | $20 |
| Max. Bet/Spin | $100.00 |
| Bonus Features | Yes |
| Wild Card | Yes |
| Scatter | Yes |
| Jackpot | Yes |
Real Time Gaming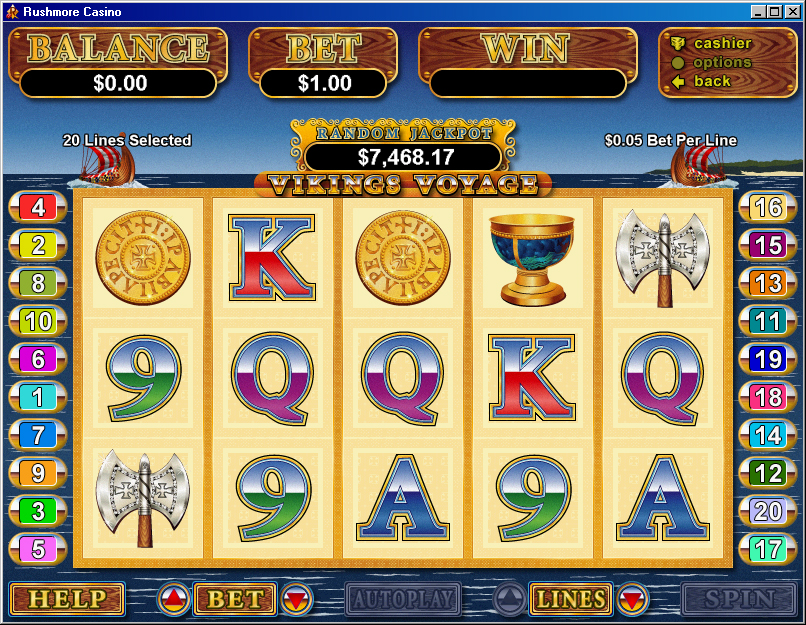 Vikings Voyage

| | |
| --- | --- |
| Reels | 5 |
| Payout Lines | 20 |
| Coins Min. | $0.01 |
| Coins Max. | $5.00 |
| Max. Coins/Bet | $20 |
| Max. Bet/Spin | $100.00 |
| Bonus Features | Yes |
| Wild Card | Yes |
| Scatter | Yes |
| Jackpot | Yes |
Real Time Gaming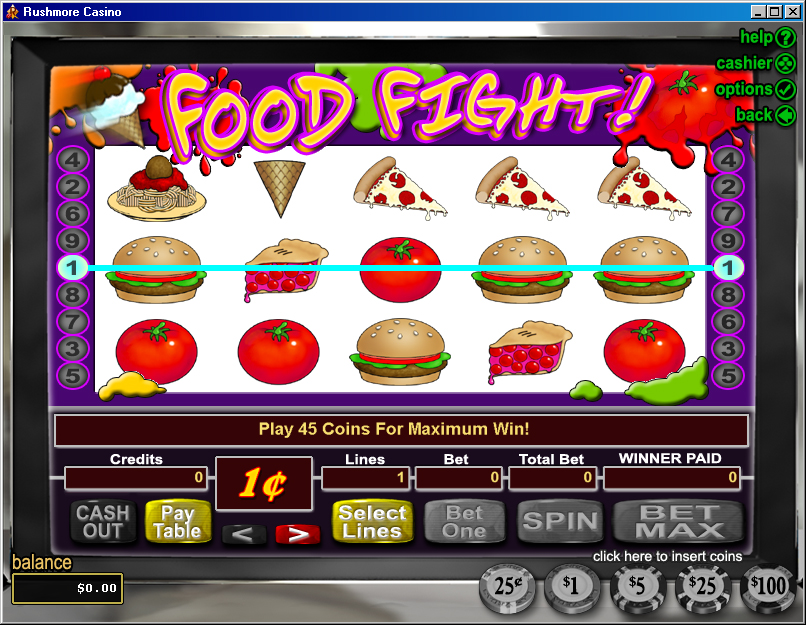 Food Fight

| | |
| --- | --- |
| Reels | 5 |
| Payout Lines | 9 |
| Coins Min. | $0.01 |
| Coins Max. | $5.00 |
| Max. Coins/Bet | $45 |
| Max. Bet/Spin | $225.00 |
| Bonus Features | Yes |
| Wild Card | No |
| Scatter | Yes |
| Jackpot | No |
Real Time Gaming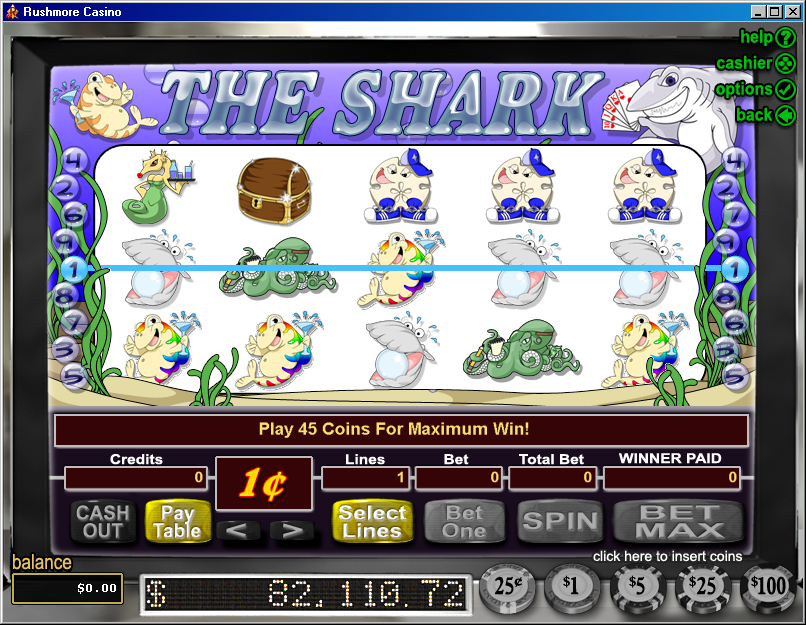 The Shark

| | |
| --- | --- |
| Reels | 5 |
| Payout Lines | 9 |
| Coins Min. | $0.01 |
| Coins Max. | $0.01 |
| Max. Coins/Bet | $45 |
| Max. Bet/Spin | $0.45 |
| Bonus Features | No |
| Wild Card | No |
| Scatter | Yes |
| Jackpot | Yes |
Real Time Gaming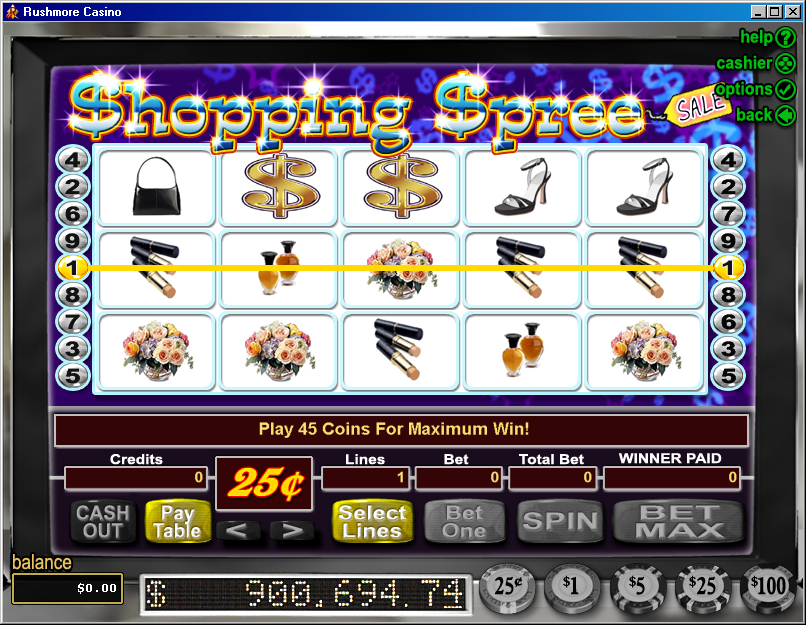 Shopping Spree

| | |
| --- | --- |
| Reels | 5 |
| Payout Lines | 9 |
| Coins Min. | $0.25 |
| Coins Max. | $0.25 |
| Max. Coins/Bet | $45 |
| Max. Bet/Spin | $11.25 |
| Bonus Features | Yes |
| Wild Card | No |
| Scatter | Yes |
| Jackpot | Yes |
Real Time Gaming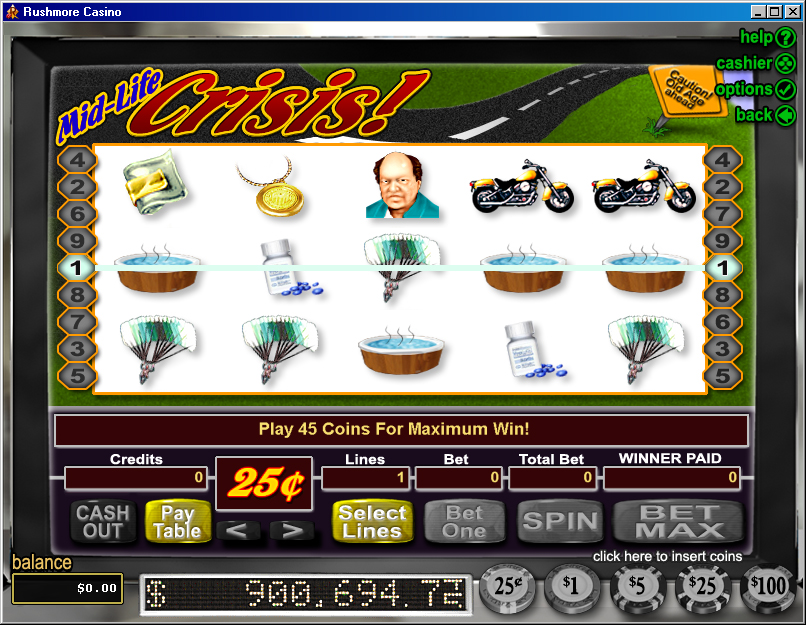 Mid-Life Crisis

| | |
| --- | --- |
| Reels | 5 |
| Payout Lines | 9 |
| Coins Min. | $0.25 |
| Coins Max. | $0.25 |
| Max. Coins/Bet | $45 |
| Max. Bet/Spin | $11.25 |
| Bonus Features | Yes |
| Wild Card | No |
| Scatter | Yes |
| Jackpot | Yes |
Real Time Gaming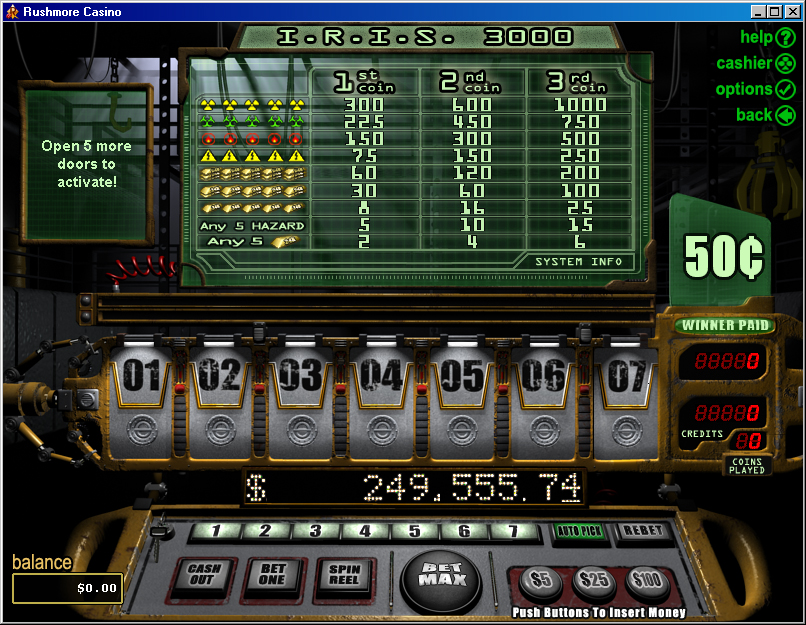 I.R.I.S. 3000

| | |
| --- | --- |
| Reels | 7 |
| Payout Lines | 1 |
| Coins Min. | $0.50 |
| Coins Max. | $0.50 |
| Max. Coins/Bet | $3 |
| Max. Bet/Spin | $1.50 |
| Bonus Features | Yes |
| Wild Card | No |
| Scatter | No |
| Jackpot | Yes |
Real Time Gaming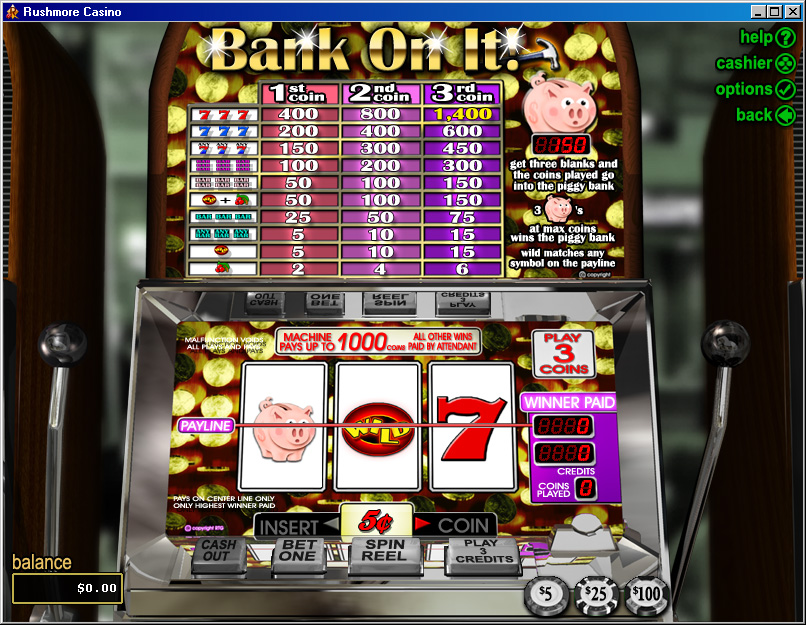 Bank On It

| | |
| --- | --- |
| Reels | 3 |
| Payout Lines | 1 |
| Coins Min. | $0.05 |
| Coins Max. | $0.00 |
| Max. Coins/Bet | $3 |
| Max. Bet/Spin | $0.15 |
| Bonus Features | Yes |
| Wild Card | Yes |
| Scatter | No |
| Jackpot | Yes |
Real Time Gaming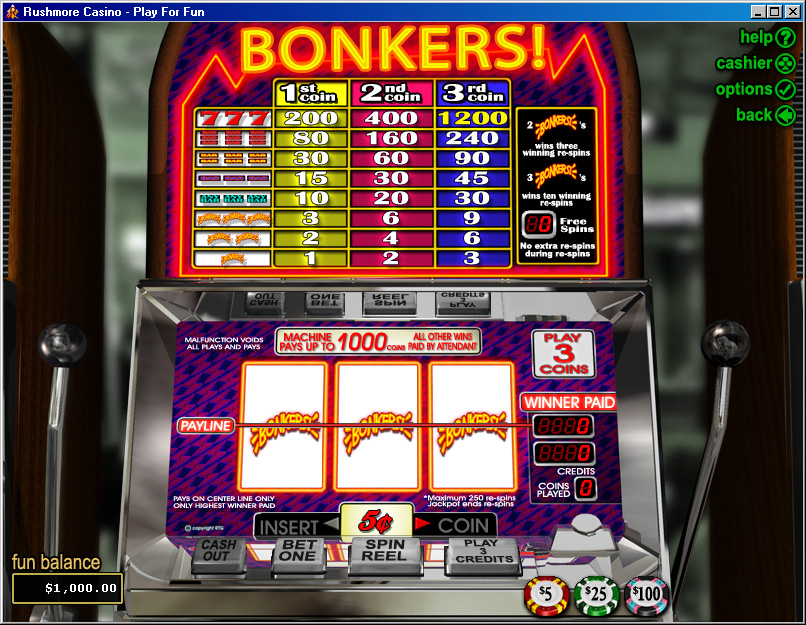 Bonkers

| | |
| --- | --- |
| Reels | 3 |
| Payout Lines | 1 |
| Coins Min. | $0.05 |
| Coins Max. | $0.05 |
| Max. Coins/Bet | $3 |
| Max. Bet/Spin | $0.15 |
| Bonus Features | Yes |
| Wild Card | No |
| Scatter | No |
| Jackpot | Yes |
Real Time Gaming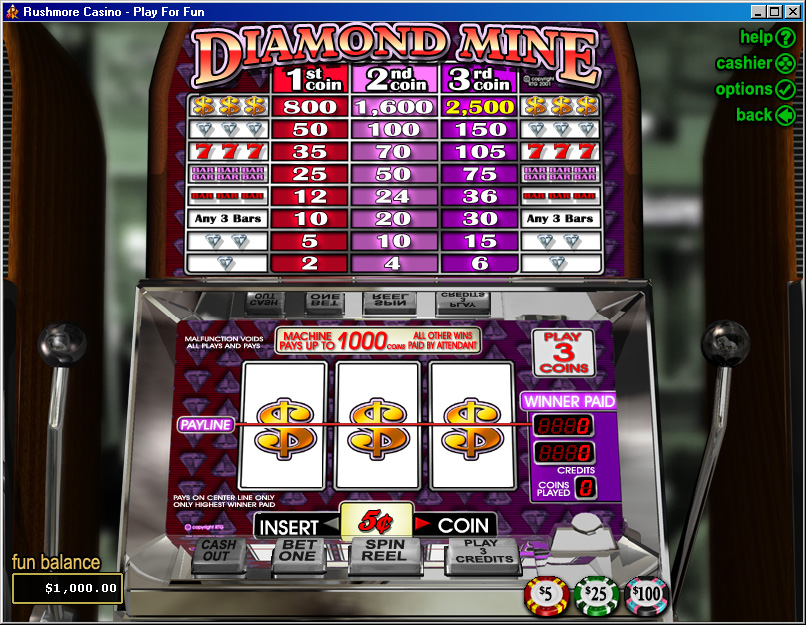 Diamond Mine

| | |
| --- | --- |
| Reels | 3 |
| Payout Lines | 1 |
| Coins Min. | $0.05 |
| Coins Max. | $0.05 |
| Max. Coins/Bet | $3 |
| Max. Bet/Spin | $0.15 |
| Bonus Features | Yes |
| Wild Card | Yes |
| Scatter | No |
| Jackpot | Yes |
Real Time Gaming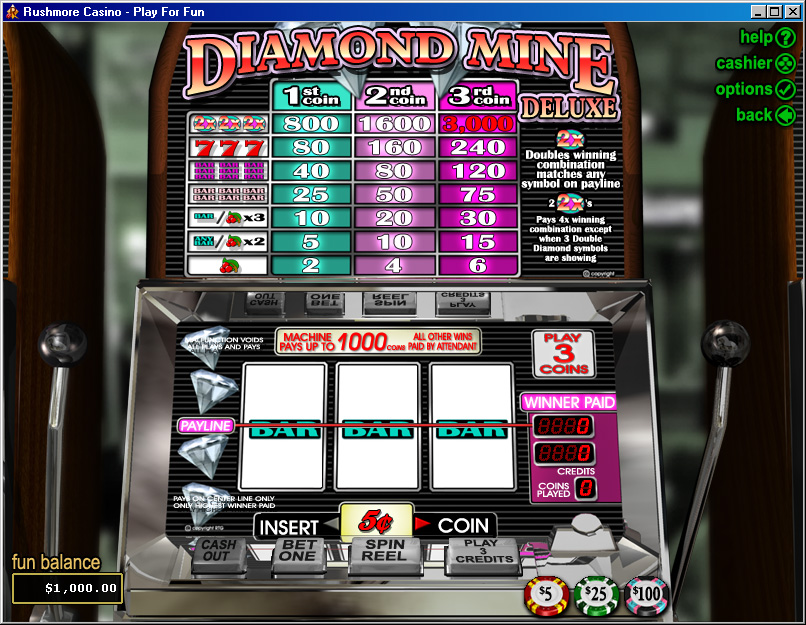 Diamond Mine Deluxe

| | |
| --- | --- |
| Reels | 3 |
| Payout Lines | 1 |
| Coins Min. | $0.05 |
| Coins Max. | $0.05 |
| Max. Coins/Bet | $3 |
| Max. Bet/Spin | $0.15 |
| Bonus Features | Yes |
| Wild Card | Yes |
| Scatter | No |
| Jackpot | Yes |
Real Time Gaming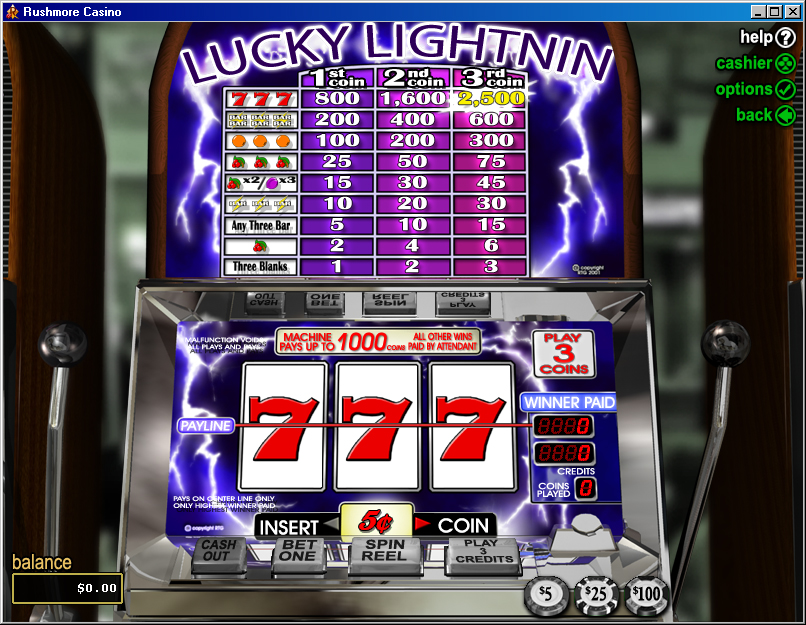 Lucky Lightning

| | |
| --- | --- |
| Reels | 3 |
| Payout Lines | 1 |
| Coins Min. | $0.05 |
| Coins Max. | $0.05 |
| Max. Coins/Bet | $3 |
| Max. Bet/Spin | $0.15 |
| Bonus Features | No |
| Wild Card | No |
| Scatter | No |
| Jackpot | Yes |
Real Time Gaming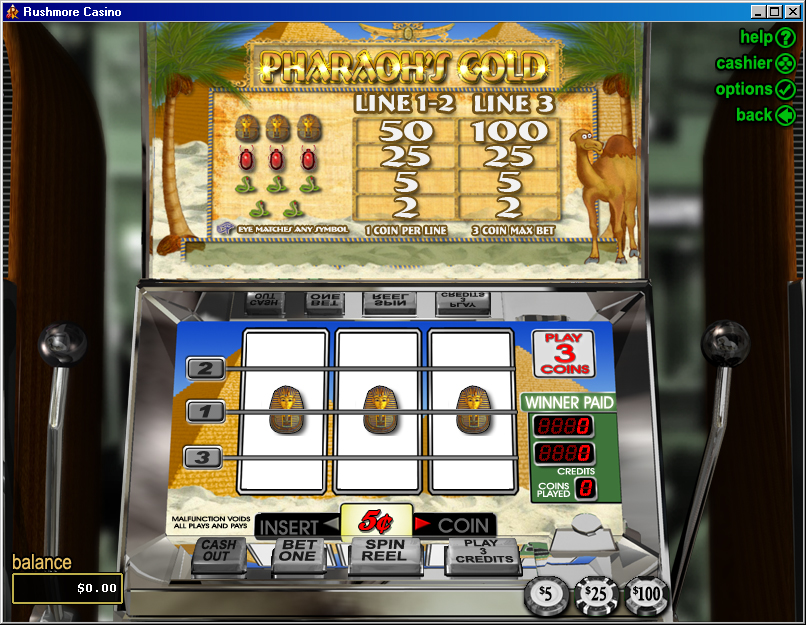 Pharaoh's Gold

| | |
| --- | --- |
| Reels | 3 |
| Payout Lines | 1 |
| Coins Min. | $0.05 |
| Coins Max. | $0.05 |
| Max. Coins/Bet | $3 |
| Max. Bet/Spin | $0.15 |
| Bonus Features | Yes |
| Wild Card | Yes |
| Scatter | No |
| Jackpot | Yes |
Real Time Gaming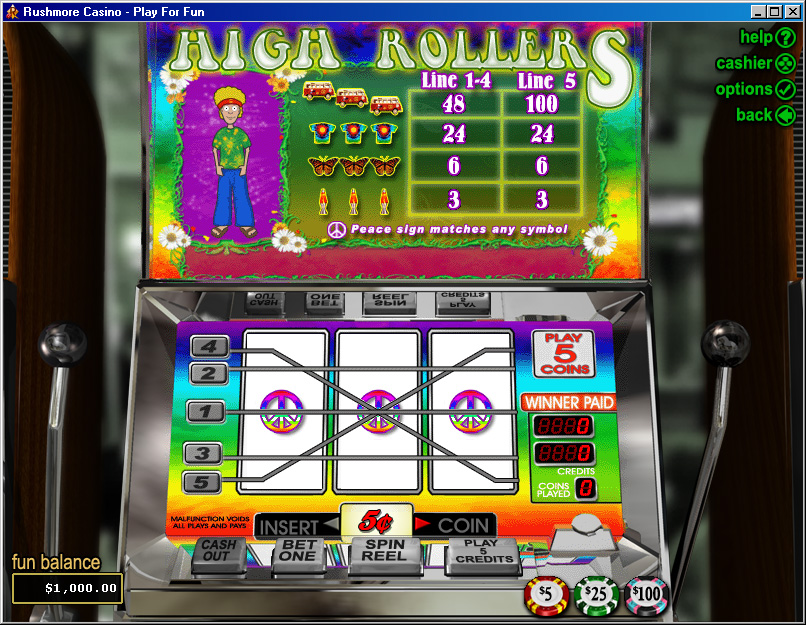 High Rollers

| | |
| --- | --- |
| Reels | 3 |
| Payout Lines | 1 |
| Coins Min. | $0.05 |
| Coins Max. | $0.05 |
| Max. Coins/Bet | $5 |
| Max. Bet/Spin | $0.25 |
| Bonus Features | Yes |
| Wild Card | Yes |
| Scatter | No |
| Jackpot | Yes |
Real Time Gaming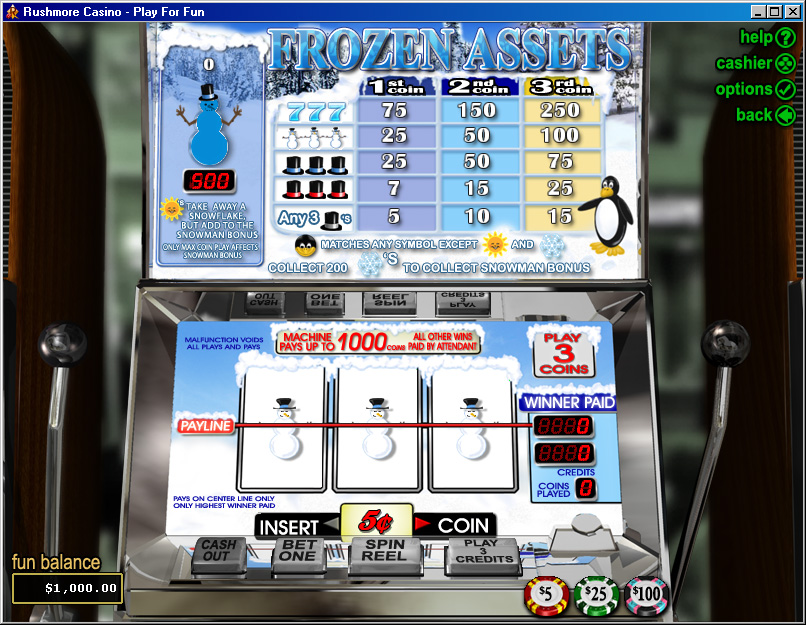 Frozen Assets

| | |
| --- | --- |
| Reels | 3 |
| Payout Lines | 1 |
| Coins Min. | $0.05 |
| Coins Max. | $0.05 |
| Max. Coins/Bet | $3 |
| Max. Bet/Spin | $0.15 |
| Bonus Features | Yes |
| Wild Card | Yes |
| Scatter | No |
| Jackpot | Yes |
Real Time Gaming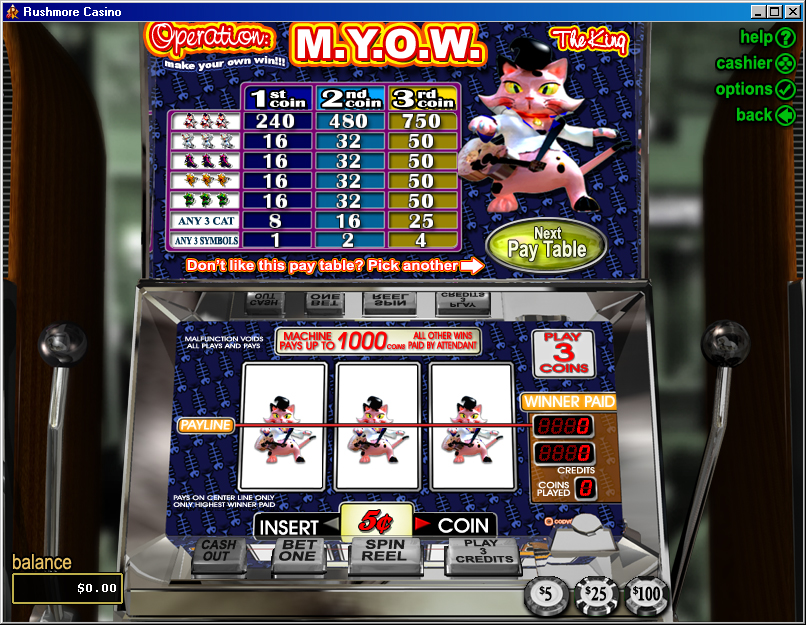 Operation M.Y.O.W.

| | |
| --- | --- |
| Reels | 3 |
| Payout Lines | 1 |
| Coins Min. | $0.05 |
| Coins Max. | $0.05 |
| Max. Coins/Bet | $3 |
| Max. Bet/Spin | $0.15 |
| Bonus Features | Yes |
| Wild Card | No |
| Scatter | No |
| Jackpot | No |
Real Time Gaming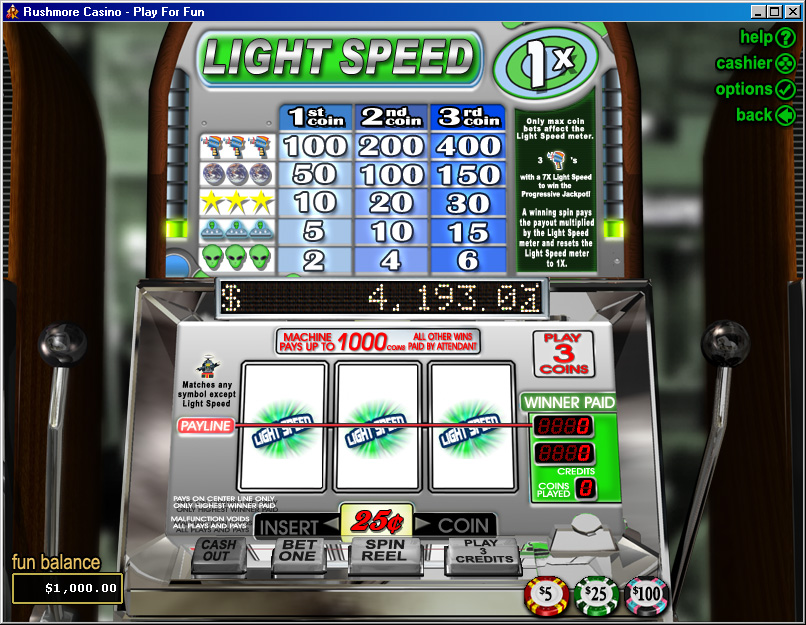 Light Speed

| | |
| --- | --- |
| Reels | 3 |
| Payout Lines | 1 |
| Coins Min. | $0.25 |
| Coins Max. | $0.25 |
| Max. Coins/Bet | $3 |
| Max. Bet/Spin | $0.75 |
| Bonus Features | Yes |
| Wild Card | Yes |
| Scatter | No |
| Jackpot | Yes |
Real Time Gaming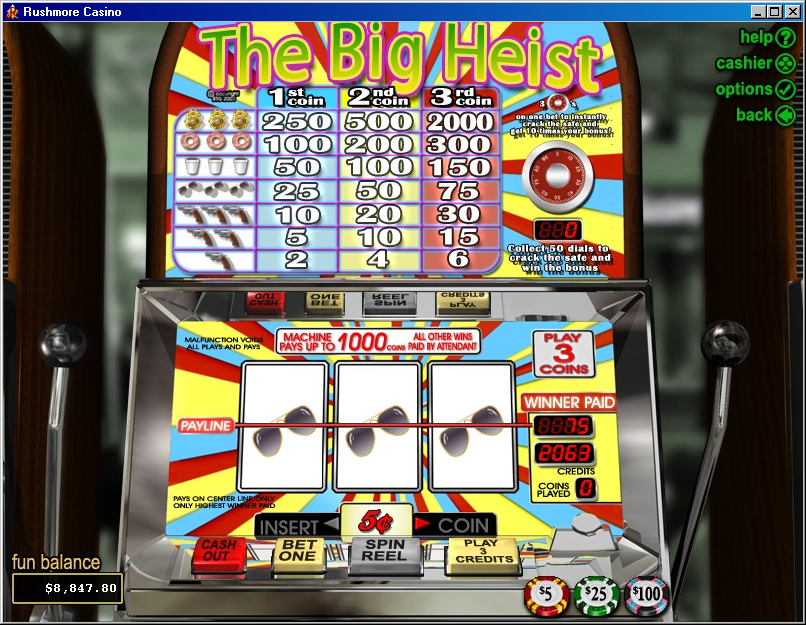 The Big Heist

| | |
| --- | --- |
| Reels | 3 |
| Payout Lines | 1 |
| Coins Min. | $0.05 |
| Coins Max. | $0.05 |
| Max. Coins/Bet | $3 |
| Max. Bet/Spin | $0.15 |
| Bonus Features | Yes |
| Wild Card | No |
| Scatter | No |
| Jackpot | No |
Real Time Gaming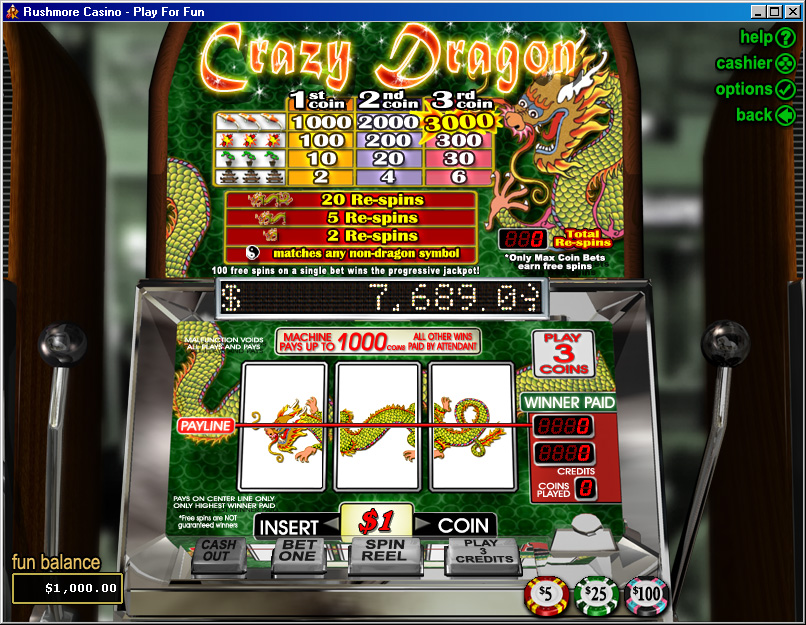 Crazy Dragon

| | |
| --- | --- |
| Reels | 3 |
| Payout Lines | 1 |
| Coins Min. | $1.00 |
| Coins Max. | $1.00 |
| Max. Coins/Bet | $3 |
| Max. Bet/Spin | $3.00 |
| Bonus Features | Yes |
| Wild Card | Yes |
| Scatter | No |
| Jackpot | Yes |
Playtech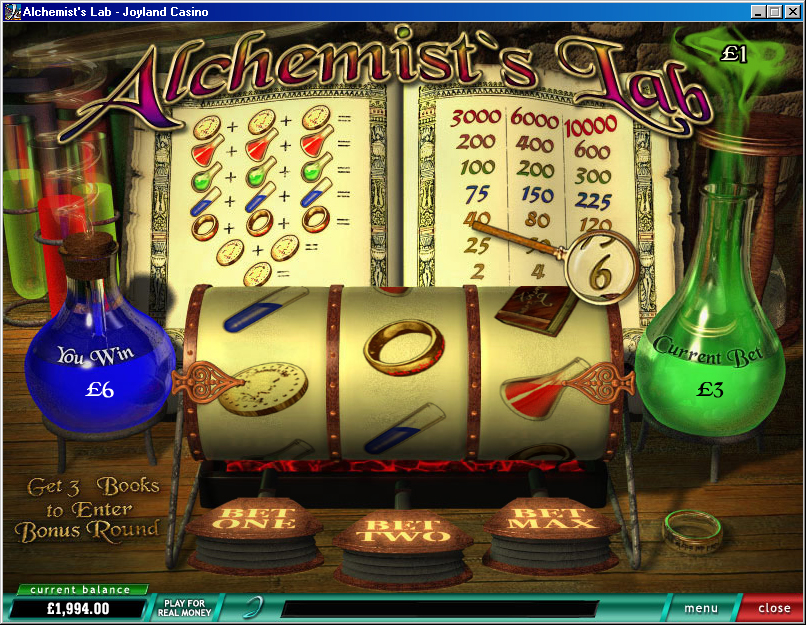 Alchemist's Lab

| | |
| --- | --- |
| Reels | 3 |
| Payout Lines | 1 |
| Coins Min. | $0.02 |
| Coins Max. | $0.02 |
| Max. Coins/Bet | $3 |
| Max. Bet/Spin | $0.06 |
| Bonus Features | Yes |
| Wild Card | No |
| Scatter | No |
| Jackpot | No |
Playtech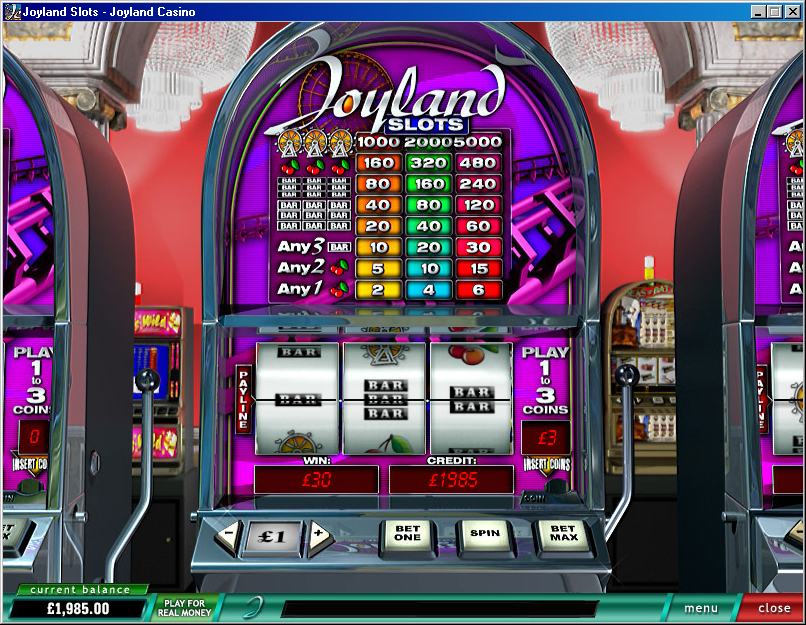 Joyland Slots

| | |
| --- | --- |
| Reels | 3 |
| Payout Lines | 1 |
| Coins Min. | $0.00 |
| Coins Max. | $0.00 |
| Max. Coins/Bet | $3 |
| Max. Bet/Spin | $0.00 |
| Bonus Features | No |
| Wild Card | No |
| Scatter | No |
| Jackpot | No |
Playtech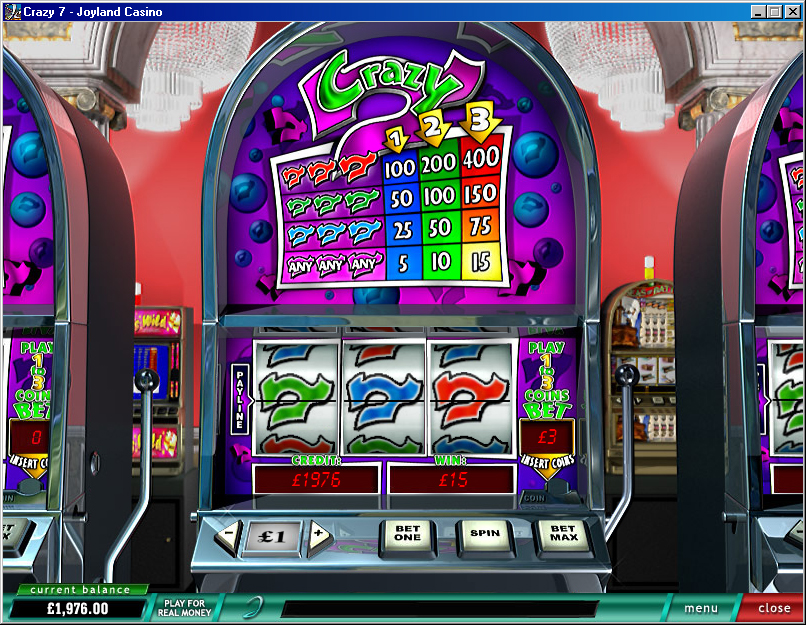 Crazy 7

| | |
| --- | --- |
| Reels | 3 |
| Payout Lines | 1 |
| Coins Min. | $0.02 |
| Coins Max. | $20.00 |
| Max. Coins/Bet | $3 |
| Max. Bet/Spin | $60.00 |
| Bonus Features | No |
| Wild Card | No |
| Scatter | No |
| Jackpot | No |
Playtech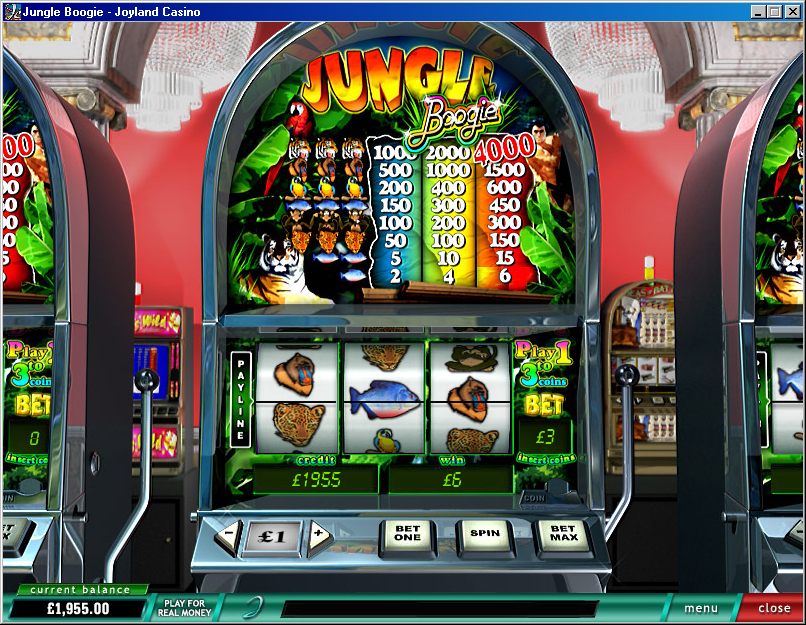 Jungle Boogie

| | |
| --- | --- |
| Reels | 3 |
| Payout Lines | 1 |
| Coins Min. | $0.02 |
| Coins Max. | $20.00 |
| Max. Coins/Bet | $3 |
| Max. Bet/Spin | $60.00 |
| Bonus Features | No |
| Wild Card | No |
| Scatter | No |
| Jackpot | No |
Playtech
Magic Slots

| | |
| --- | --- |
| Reels | 3 |
| Payout Lines | 1 |
| Coins Min. | $0.00 |
| Coins Max. | $0.00 |
| Max. Coins/Bet | $3 |
| Max. Bet/Spin | $0.00 |
| Bonus Features | Yes |
| Wild Card | No |
| Scatter | No |
| Jackpot | Yes |
Playtech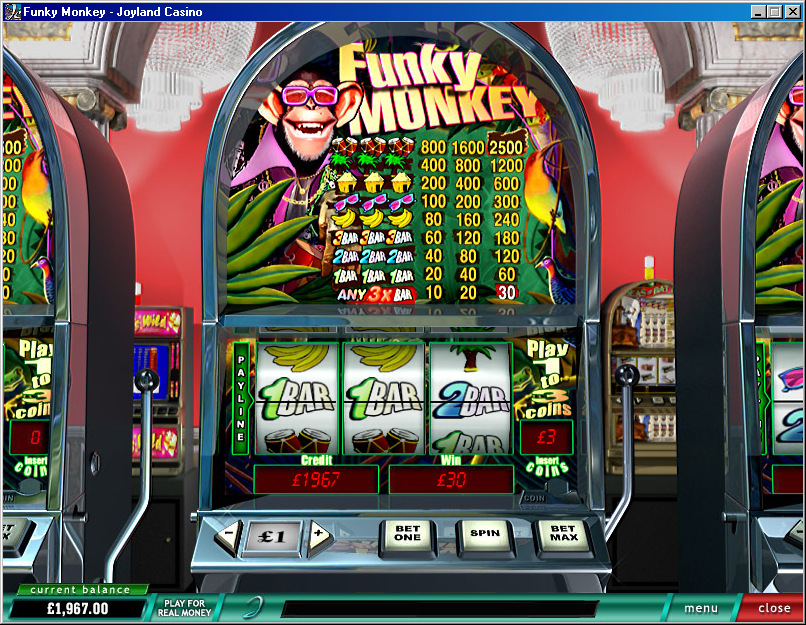 Funky Monkey

| | |
| --- | --- |
| Reels | 3 |
| Payout Lines | 1 |
| Coins Min. | $0.02 |
| Coins Max. | $20.00 |
| Max. Coins/Bet | $3 |
| Max. Bet/Spin | $60.00 |
| Bonus Features | No |
| Wild Card | No |
| Scatter | No |
| Jackpot | No |
Playtech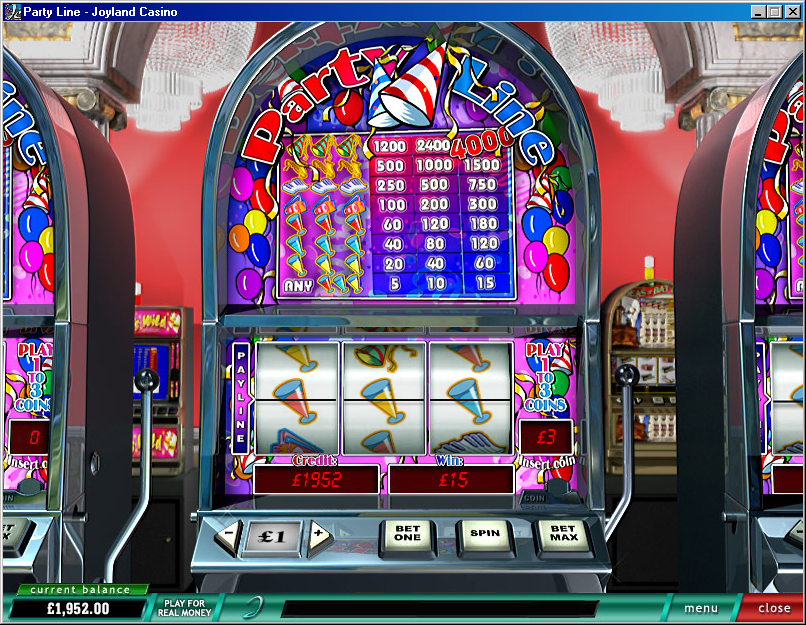 Party Line

| | |
| --- | --- |
| Reels | 3 |
| Payout Lines | 1 |
| Coins Min. | $0.02 |
| Coins Max. | $20.00 |
| Max. Coins/Bet | $3 |
| Max. Bet/Spin | $60.00 |
| Bonus Features | No |
| Wild Card | No |
| Scatter | No |
| Jackpot | No |
Playtech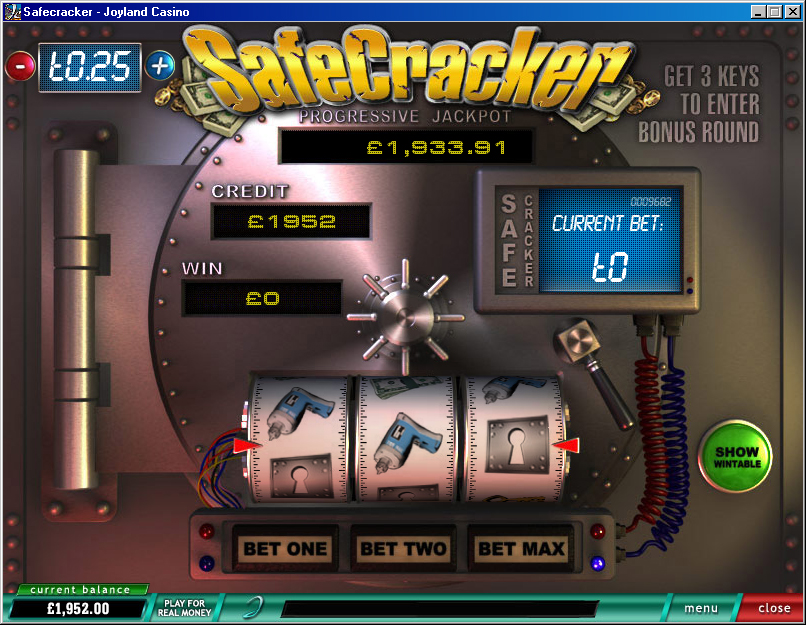 Safecracker

| | |
| --- | --- |
| Reels | 3 |
| Payout Lines | 1 |
| Coins Min. | $0.00 |
| Coins Max. | $0.00 |
| Max. Coins/Bet | $3 |
| Max. Bet/Spin | $0.00 |
| Bonus Features | Yes |
| Wild Card | No |
| Scatter | No |
| Jackpot | Yes |
Playtech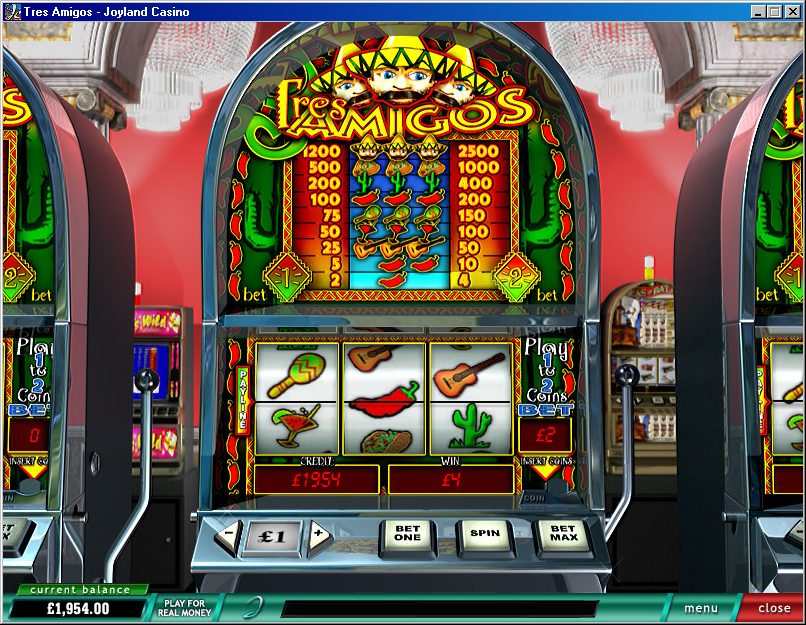 Tres Amigos

| | |
| --- | --- |
| Reels | 3 |
| Payout Lines | 1 |
| Coins Min. | $0.02 |
| Coins Max. | $20.00 |
| Max. Coins/Bet | $2 |
| Max. Bet/Spin | $40.00 |
| Bonus Features | No |
| Wild Card | No |
| Scatter | No |
| Jackpot | No |
Playtech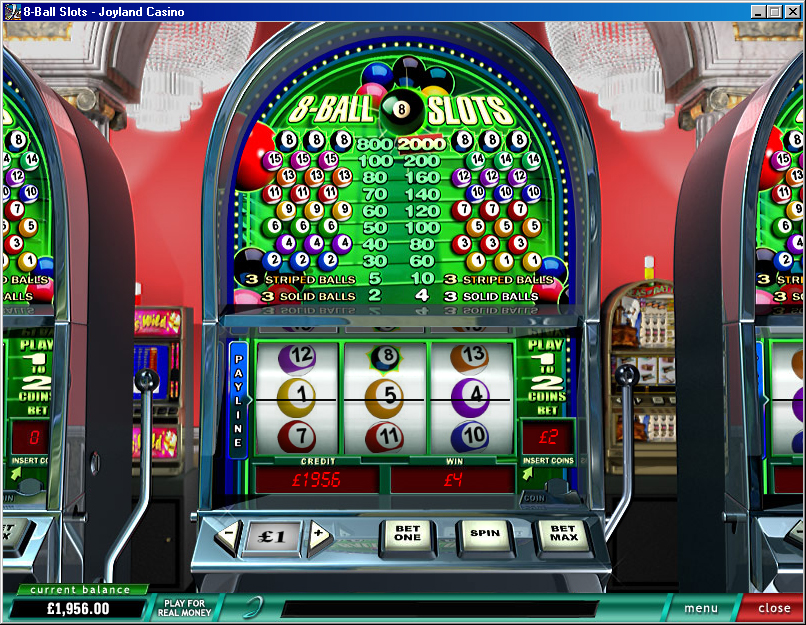 8-Ball Slots

| | |
| --- | --- |
| Reels | 3 |
| Payout Lines | 1 |
| Coins Min. | $0.02 |
| Coins Max. | $20.00 |
| Max. Coins/Bet | $2 |
| Max. Bet/Spin | $40.00 |
| Bonus Features | No |
| Wild Card | No |
| Scatter | No |
| Jackpot | No |
Playtech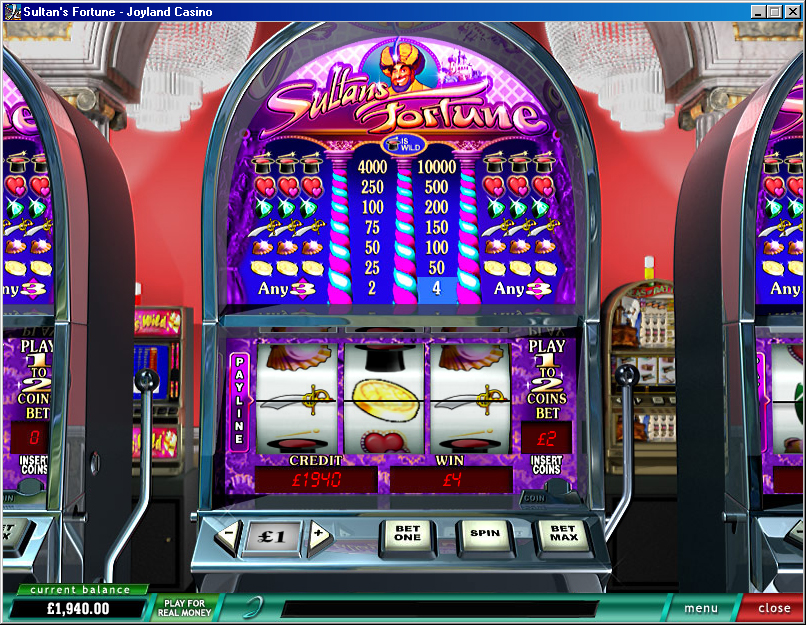 Sultans Fortune

| | |
| --- | --- |
| Reels | 3 |
| Payout Lines | 1 |
| Coins Min. | $0.02 |
| Coins Max. | $20.00 |
| Max. Coins/Bet | $2 |
| Max. Bet/Spin | $40.00 |
| Bonus Features | No |
| Wild Card | No |
| Scatter | No |
| Jackpot | No |
Playtech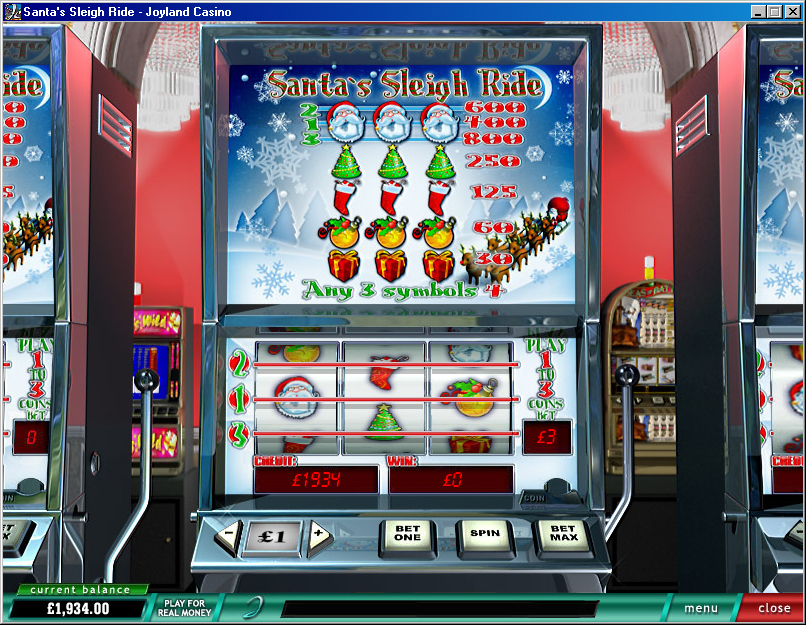 Santa's Sleigh Ride

| | |
| --- | --- |
| Reels | 3 |
| Payout Lines | 3 |
| Coins Min. | $0.00 |
| Coins Max. | $0.00 |
| Max. Coins/Bet | $3 |
| Max. Bet/Spin | $0.00 |
| Bonus Features | No |
| Wild Card | No |
| Scatter | No |
| Jackpot | No |
Playtech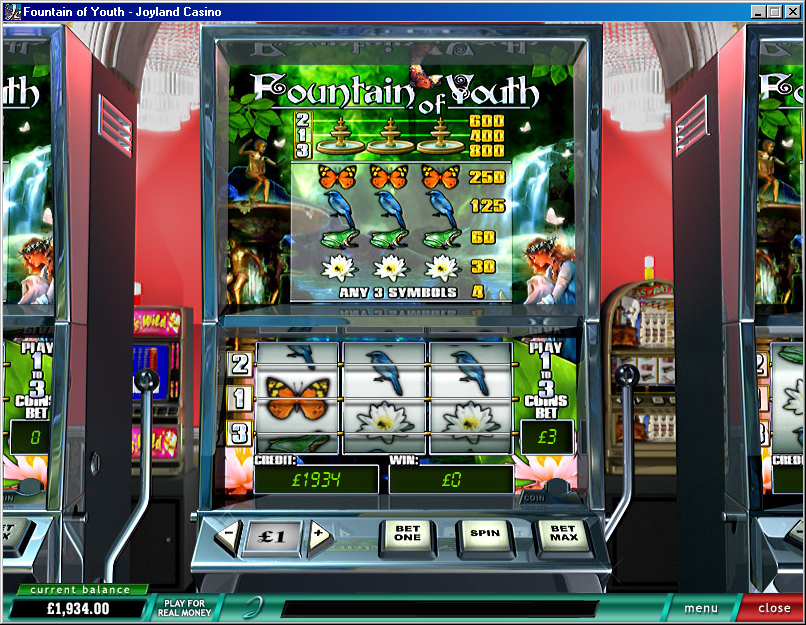 Fountain of Youth

| | |
| --- | --- |
| Reels | 3 |
| Payout Lines | 0 |
| Coins Min. | $0.00 |
| Coins Max. | $0.00 |
| Max. Coins/Bet | $3 |
| Max. Bet/Spin | $0.00 |
| Bonus Features | No |
| Wild Card | No |
| Scatter | Yes |
| Jackpot | No |
Playtech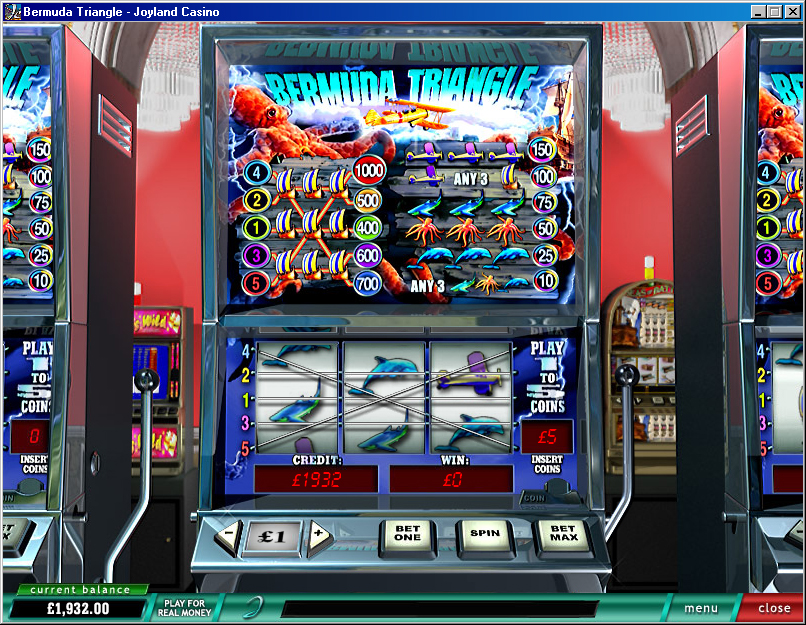 Bermuda Triangle

| | |
| --- | --- |
| Reels | 3 |
| Payout Lines | 5 |
| Coins Min. | $0.02 |
| Coins Max. | $20.00 |
| Max. Coins/Bet | $5 |
| Max. Bet/Spin | $100.00 |
| Bonus Features | No |
| Wild Card | No |
| Scatter | No |
| Jackpot | No |
Playtech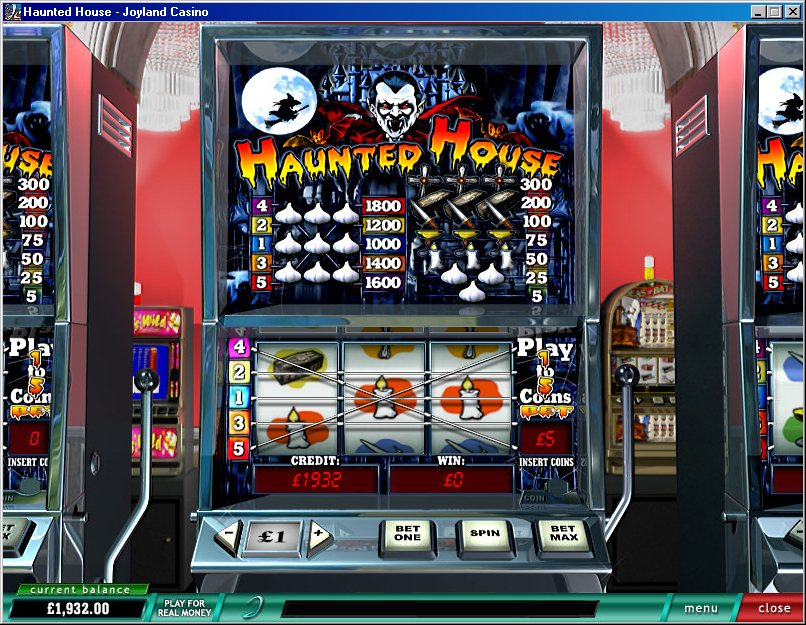 Haunted House

| | |
| --- | --- |
| Reels | 3 |
| Payout Lines | 5 |
| Coins Min. | $0.02 |
| Coins Max. | $20.00 |
| Max. Coins/Bet | $5 |
| Max. Bet/Spin | $100.00 |
| Bonus Features | No |
| Wild Card | No |
| Scatter | No |
| Jackpot | No |
Playtech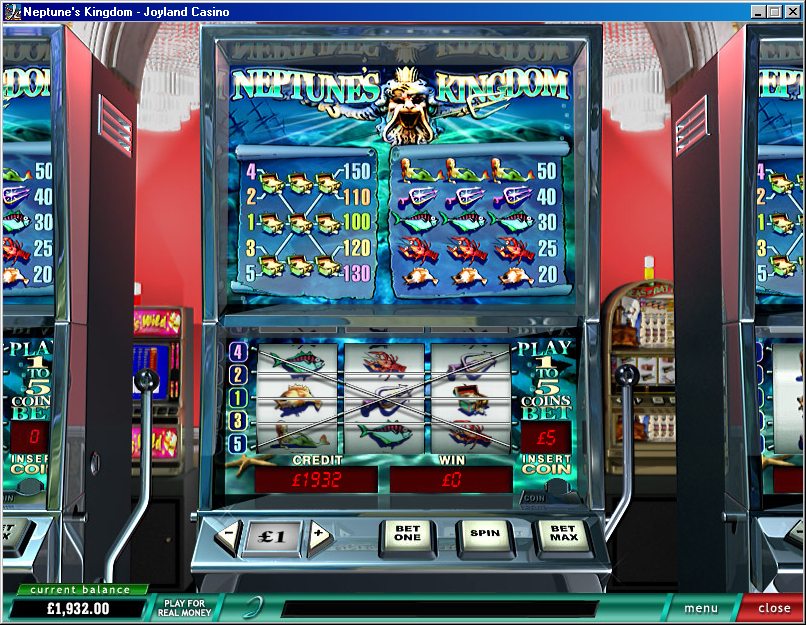 Neptune's Kingdom

| | |
| --- | --- |
| Reels | 3 |
| Payout Lines | 5 |
| Coins Min. | $0.02 |
| Coins Max. | $20.00 |
| Max. Coins/Bet | $5 |
| Max. Bet/Spin | $100.00 |
| Bonus Features | No |
| Wild Card | No |
| Scatter | No |
| Jackpot | No |
Playtech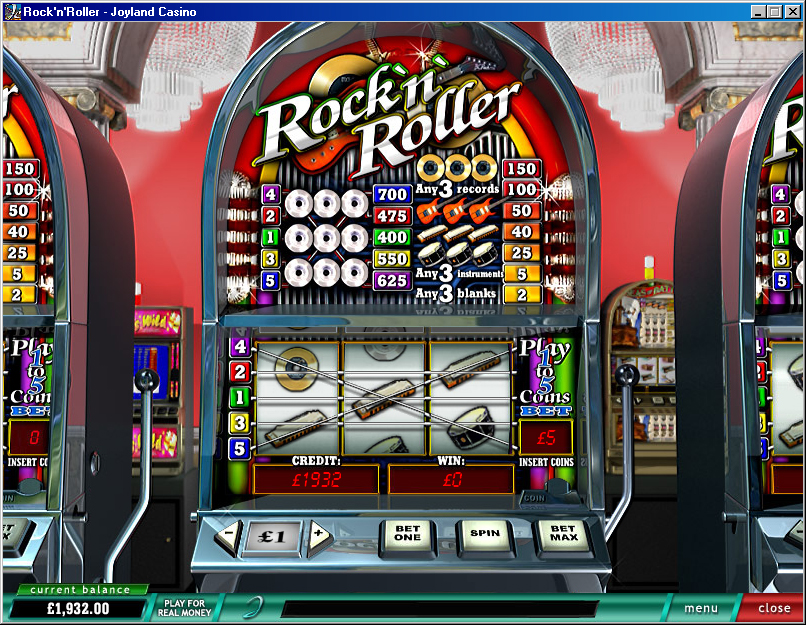 Rock'n'Roller

| | |
| --- | --- |
| Reels | 0 |
| Payout Lines | 5 |
| Coins Min. | $0.02 |
| Coins Max. | $20.00 |
| Max. Coins/Bet | $5 |
| Max. Bet/Spin | $100.00 |
| Bonus Features | No |
| Wild Card | No |
| Scatter | No |
| Jackpot | No |
Playtech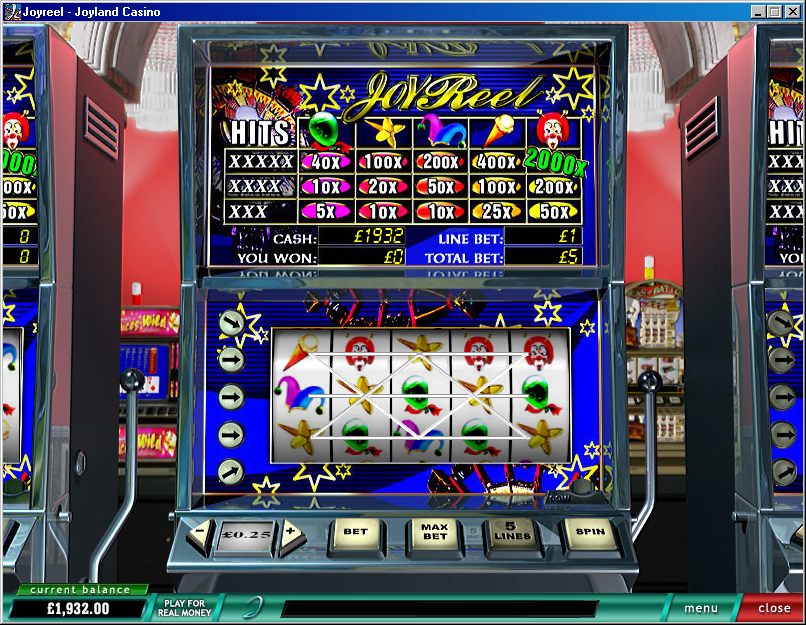 Joyreel

| | |
| --- | --- |
| Reels | 5 |
| Payout Lines | 5 |
| Coins Min. | $0.00 |
| Coins Max. | $0.00 |
| Max. Coins/Bet | $0 |
| Max. Bet/Spin | $0.00 |
| Bonus Features | No |
| Wild Card | No |
| Scatter | No |
| Jackpot | No |
Playtech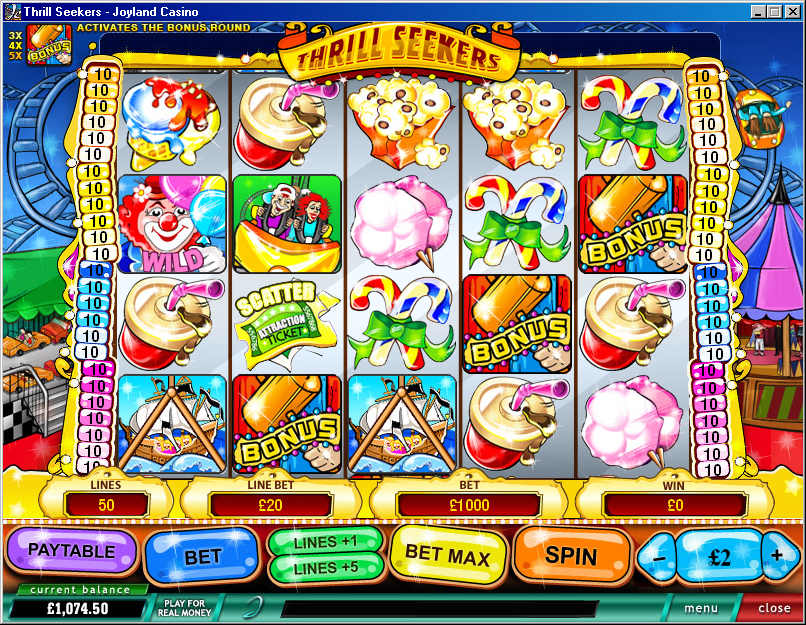 Thrill Seekers

| | |
| --- | --- |
| Reels | 5 |
| Payout Lines | 50 |
| Coins Min. | $0.00 |
| Coins Max. | $0.00 |
| Max. Coins/Bet | $0 |
| Max. Bet/Spin | $0.00 |
| Bonus Features | Yes |
| Wild Card | Yes |
| Scatter | No |
| Jackpot | No |